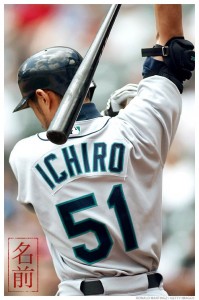 The Red Sox are in a rebuilding phase. For a while, it appeared they weren't going to admit it, that they were going to make their customary splash in the overpriced free agent market. Hand out another Sindey Crosby type contract. Sign someone through their unborn child's awkward years. For some, the acquisition of Mike Napoli may seem like deja vu in that regard, but its not. Napoli is a good–not great–player, signed for a contact commensurate with his talents. He is not the key to a World Series but is will make the team better.
Likewise, Ichiro is not the key to a championship, but he'll make the 2012 Red Sox better than they are now. Signing Ichiro has three major positive repercussions for the Sox. First, he is an upgrade from the right fielder they currently do not have. Is Ichiro old? Check. Is he at the tail end of "decline?" Possibly. Is he still worth about 70 runs, 25 steals, and 50 RBI? Absolutely.
Secondly, Ichiro knows what he is. He is n0t some aging Juan Gonzalez who still thinks he's due for a 50 homer season. He's 39 and will sign the one year deal that a 39 year old superstar deserves: $10 million. He will be a professional in the clubhouse and with the media, and he'll sit when he's asked to. If he fails to perform or gets injured, the Sox have three near-ready outfield prospects in wings. Depending on how the chips fall, he'll give way to one of those youngsters late in the year, or cede the position when he retires after the season.
Finally, Ichiro will fulfill (pun intended) that other necessary duty: keep the Pink Hat fans interested–and paying–in what will likely be another down year.
Ichiro makes a lot of sense in the Boston outfield even without the situationally specific perks. He has a unique skill set that plays well in Fenway's spaciously awkward right field. He has the offensive profile to help lengthen out a lineup that looks a bit K heavy at the moment.  And he's a pure professional. Ichiro's presence can do nothing but help the reeling Sox clubhouse as new skipper John Farrell executes his overhaul.
-Ari Glantz