The Kansas City Royals Should Trade For R.A. Dickey
Updated: December 4, 2012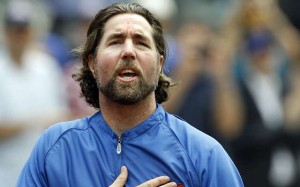 The 37 year old knuckleballer from the New York Mets may be the solution to the Kansas City Royals' pitching woes. R.A. Dickey transformed himself from a traditional pitcher at the University of Tennessee, and with the Texas Rangers through 2005, to a knuckleballing monster fully unleashed in 2012.  En route to a Cy Young award, he was unhittable for stretches, featuring a hard knuckler unlike any before it.  He's unlike any other pitcher I can remember; his value is likewise impossible to pinpoint.  Last year was incredible, and knucklballers are durable, but he's 37 and who knows how long his UCL-less elbow will hold. But then again, last year was incredible.
The Mets are in a position where moving the most exciting guy on their roster makes a whole bunch of sense; the Royals are willing to trade some of their young talent for the rotation strength. The 2012 NL Cy Young winner might indeed provide that strength, and one of the Royals young stud bats might go a long way towards rebuilding in Queens.
The Mets aren't going to be a contender in 2012.  With the talented Braves and World Series-bound Washington Nationals in the same division, the Mets should be excited about the potential for a few extra prospects in 2012. In-house, Matt Harvey and Zack Wheeler are the guys Mets fans should be excited about.  They should be ready to constitute a formidable top of the rotation in 2014.  In the meantime, it's in the Mets best interest to build young talent–especially bats–around those guys.
Meanwhile, the Royals' window for competition is now.  They have Eric Hosmer, Salvador Perez, Mike Moustakas, and a formidable outfield.  Those young position players combined with at least an average pitching staff should make the Royals a contender in 2013.  Having already added Jeremy Guthrie and Ervin Santana to a rotation that managed a 5.01 ERA (25th in MLB), the Royals need more.  Right now, they have a guy every 5th day. They need the guy.  Bruce Chen just will not cut it; Guthrie or Santana either.  R.A. Dickey would be the guy.
Apparently, the Mets are being fairly realistic in their demands for Dickey.  Peter Gammons just said on MLB Network that the Mets didn't even bring up Xander Bogaerts in their trade discussions with the Red Sox.  Bogaerts is a very highly regarded shortstop prospect and the Royals parallel is Wil Myers.  Like Bogaerts, Myers isn't going anywhere.  I also don't see OF Bubba Starling, SPs Jake Odorizzi, Mike Montgomery, or Yordani Ventura going anywhere either.  That leaves a pair of lesser prospects as the possible return for Dickey.  This past summer's first round pick, pitcher Kyle Zimmer, and outfielder Brett Eibner are the guys on the table.  Both appear a long way off and require some serious seasoning, but both come with tremendous upside.
It's clear to me that for the Royals, the time is now.  Their offseason moves are not those of foundation-building, they are those of championship-seeking.  What they need is more, top end starting pitching.  The Mets window is 2014, and they need young positional prospects–or pretty much anyone who is not a soon-to-be 38 year old knuckleballer.  The two clubs need to make something happen.  Do it.
Stat of the Day: 6 of the top 10 teams in terms of average starting pitching fastball velocity made the postseason.