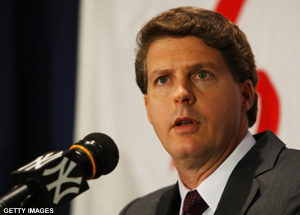 The New York Yankees are in it deep and, as a fan, I'm freaking out. A-rod is out until the middle of the season (despite the fact that ESPN's resident blowhard Curt Shilling inexplicably thinks he's out for the year) leaving the Bombers with a distinct lack of third basemen. In the last couple days the best options, Jeff Keppinger and Eric Chavez, have signed elsewhere and the team is left digging through the free agent scraps. Right now, Kevin Youkilis, whom the Red Sox, a team that lost 90 games last season, discarded as unworthy of a roster spot, is the best option. Didn't we just cut Casey McGehee? Can't we get him back? Why does our GM insist that Eduardo Nunez isn't a third basemen? Isn't everyone a third basemen if we don't have one?
Meanwhile, while everyone is focused on third, the Yankees still don't have a catcher or a right fielder. As of now, the catcher is going to be decided by an open competition between  Austin Romine (less than 50 career games above AA), Eli Whiteside (career .215 batting average), Fransico Cervelli (spent last season in AAA after losing out on the backup job), and Chris Stewart (career .217 BA). None of those guys should be a starter on any big league team.
Also, who will be the right fielder? Is there a reason the Yanks haven't resigned Ichiro yet? What is the plan for right?
Why does the ownership insist on penny pinching when they could go dollar for dollar with the Dodgers if they wanted to? Why is Brian Cashman acting like he doesn't have a clue?
What is the plan for the pitching staff? The team currently has the same rotation they did last season when it was a weakness for them. The entire division has gotten better and the Yankees have lost three starters and not replaced any of them while also not addressing any of the weaknesses the team had before.
The New York Yankees need to wake up.
-Max Frankel