Post-Winter Meeting Roundup: Michael Young to the Phillies, A Good Move For All Parties
Updated: December 9, 2012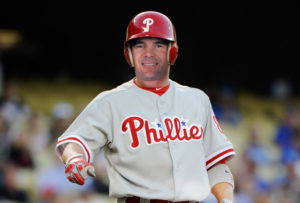 About this time last season, there were rumors swirling that the Rangers were contemplating a trade of franchise icon Michael Young. At that point, with Adrian Beltre, Elvis Andrus, Ian Kinsler, and the first base platoon taking up all the infield spots, Young seemed most likely to be a part time DH. Interest was high as Young was coming off a stellar season in which he lead the league with more than 200 hits, and the Rockies seemed to be the most likely team to land him. Of course, Young stayed with Texas and had what was by his standards a pretty pathetic year in a part time role.
This season, with Jurickson Profar in the mix and high enough on the depth chart to potentially displace the All-Star Ian Kinsler, there really is no place on the Texas roster for the fan favorite Young.
Conveniently, the Philadelphia Phillies were in dire need of a third basemen, preferably one who hits right handed to balance their predominantly left handed hitting batting order featuring Chase Utley, Ryan Howard, and the switch hitting Jimmy Rollins. Young, who came up as a shortstop but has played all four infield positions, can slot nicely right into the Phillies' third base hole. He provides another vertan presence which jives with what Philly has going and I think that the Phillies are realistic in hoping that the switch from the AL West to the NL East can help jump start Michael Young's bat. In the NL, for every Stephen  Strasburg and Gio Gonzalez that Young has to face, he gets to see Jon Neise and Ricky Nolasco too. This was a big move for Philly because they fill their biggest hole with an All-Star caliber player who knows how to win. Young can hit almost anywhere in the lineup and can carry the team at times too. 
For the Rangers, they get two decent pitchers for Young, but mostly they avoid the headache of having to bench one of thier most popular players the same year they might lose another (Josh Hamilton) to free agency.
For Young, he gets a chance to play every day again, and a fresh start against some new, weaker pitching that may help him regain his old form.
Really, this was a win-win-win.
Still, the Phillies as presently constituted are clearly the 3rd best team in the NL East. In the NL Central, I would say they'd definitely have a shot. In the AL Central, their pitching might make them a favorite right up there with the Tigers. But in the NL East where they have to compete with the loaded Nationals and Braves, I think GM Ruben Amaro has a lot more work to do.