Super Fast Reaction Rays-Royals MegaDeal: Most Lopsided Trade EVER?
Updated: December 9, 2012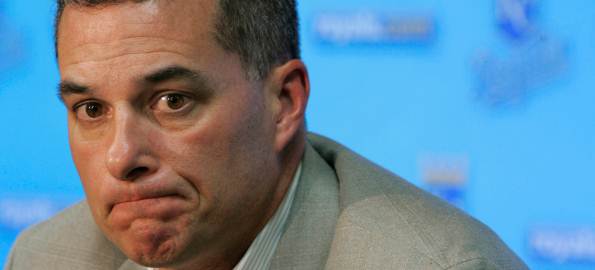 In case you missed it, the Rays just traded James Shields and Wade Davis to the Royals for Wil Meyers, Jake Odorizzi, Mike Montgomery, and Patrick Leonard. Just so we're clear, Meyers was the Royals (and maybe baseball's) best prospect and Montgomery and Odorizzi were arguably their best pitching prospects.
I'll be honest, I feel like I'm missing something here. The Rays just dealt a below average major league starter (Davis) and a guy they weren't going to have much more control over (Shields) for what could be the best prospect haul in history. Was Royals GM Dayton Moore drunk? If he isn't fired by tomorrow morning the fans should riot. Unless Davis turns into the next Roger Clemens this might be one of the most lopsided trades ever, right up there with the one that netted the Red Sox a young Derek Lowe and Jason Varitek for Heathcliff Slocumb.
The Rays now have six years (minimum) of team control over baseball's best outfielder without a game on his resume and seven (!!!) legitimate starters on the roster with Price, Moore, Hellickson, Neiman, Odorizzi, and Montgomery. Rays GM Andrew Friedman just pulled off a coup. Dick Cheney got away with less.
For the Royals, they now have a starting rotation that boasts Shields at the top, followed by Ervin Santana, Jeremy Gutherie, Davis, and Bruce Chen. That's not terrible but at what cost? I didn't agree with trading Meyers when the idea was first floated, but I thought that if they did pull the trigger they would get a huge return, not James Shields and Wade Davis. And not while letting go such secondary talent.
This trade is ridiculous. Congrats to Andrew Friedman.
WAAAAYYYYY more detailed reaction of this trade to follow in the morning.