Ranking the Top 10 Untouchable Players In Baseball
Updated: December 11, 2012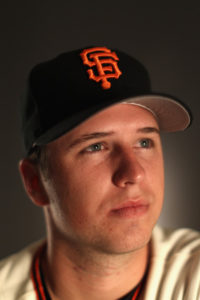 This winter, there has been a lot of talk about Justin Upton of the Arizona Diamondbacks. The burly right fielder has been linked to a litany of teams including the Rangers, Braves, and Mariners. He's also only 25 and still has the potential to be an absolute superstar. Until last summer, no one would have thought Upton would be openly shopped; in fact, many considered the young slugger untouchable on the trade market. That got me thinking. Clearly, Upton wasn't untouchable, but who is? There are certainly elite level players whom it would take an entire farm system to pry from their current organizations. So who are the top 10 guys whose teams wouldn't trade them under any circumstances, for anybody? Let's take a look.
A caveat: I've tried my best to disregard contract status as much as possible, focusing instead on performance and value to the team. Guys like Alex Rodriguez, untouchable only because no one wants to pay him, didn't make the list.
Buster Posey, Catcher, San Fransico Giants: The Giants just won their second World Series in the last three years. The year they didn't win was the year Buster Posey go hurt. Posey is young, plays THE premium position, hits in the middle of the lineup, is the leader of the team, guides the pitching staff, and is a fan favorite. Ohbytheway, he's also the reigning NL MVP. There is simply no way that Buster Posey will be traded.
Mike Trout, Centerfield, Los Angeles Angels: Trout is the reigning AL Rookie of the Year and was the 2012 MVP runner-up after he posted one of the greatest seasons ever, by anyone, let alone a first year player. Like Posey, he plays a premium position and has emerged as a leader. The sky is the limit for this phenom, though their have been one hit wonders before. After last year, it would take multiple down season for the Halos to consider dealing Mike Trout.
Justin Verlander, Pitcher, Detroit Tigers: Verlander is the best pitcher on earth, period. There honestly isn't a way to get equal value for him in a trade. Even if you got a massive haul of prospects and proven MLB players, you couldn't make up for a starting pitcher good enough to win both the Cy Young and MVP simultaneously like Verlander did in 2011.
Stephen Strasburg, Pitcher, Washington Nationals: I'm not sure any player in baseball means more to his organization than Stephen Strasburg. He personifies the transformation of the Nats from bottom dweller to Series contender. He sells the most t-shirts, draws the biggest crowds, and (with number 7 on this list) focuses media buzz to the team. Oh, and he's already one of the top starters in the NL.
Evan Longoria, Third Base, Tampa Bay Rays: The Rays, who pinch pennys for a living–they just took a gamble on James Loney for $2 million because they couldn't afford to go after anyone better–handed Longo the forst $100 million contract in franchise history. That should say it all. He's a homegrown talent, the anchor to his team's offense, and key to its contention hopes.
Ryan Braun, Leftfield, Milwaukee Brewers: The 2011 NL MVP had the numbers to win the award again in 2012. A perennial 30-30 guy he's also the only truly recognizable name on one of baseball's more forgettable teams. A year after Prince Fielder walked out the door, Braun has never been more valuable to the BrewCrew.
Bryce Harper, Outfield, Washington Nationals: Is a poor man's Mike Trout too harsh? Harper was one of the most heralded prospects ever when he entered the league in 2012 and he didn't disappoint, winning the Rookie of the Year award. Harper has proven himself as one of the most dynamic players in the game and his baseball IQ is through the roof, even if he still has some more to learn and some adjustments to make. He's just 20 years old and the upside is too massive for the Nationals to consider dealing him.
Giancarlo Stanton, Rightfield, Miami Marlins: Stanton would be a higher on this list if he didn't play for the Marlins. At 23, he is already on pace to be one of the most prolific sluggers of all time. On any other team, you simply couldn't have him, on the Marlins, I'm not so sure.
Craig Kimbrel, Closer, Atlanta Braves: I know a reliever will never be as valuable as a starting pitcher or an everyday player, but Craig Kimbrel is about as untouchable as a reliever can be. He is best closer in baseball (unless Mariano Rivera somehow lost 10 years during his injury rehab) and that couldn't be more important for a team like the Braves, for whom every win counts when trying to keep pace with the Nationals. Last year, Kimbrel became the first player ever to strike out more than half the batters he faced.
Miguel Cabrera, Thirdbase, Detroit Tigers: Cabrera just won the Triple Crown and the AL MVP so why isn't he higher on this list? Don't get me wrong, Cabrera is untouchable alright–no one is going to get him from the Tigers. But, since Detroit brought in Prince Fielder he's a little less untouchable than before. Cabrera is the only player on this list who could be adequately replaced by someone else already on his team were he to mysteriously disappear.
There you have it, the Top 10 Most Untouchable Players in Baseball. No worries, that still leave Dayton Moore a whole bunch of guys to mortgage the farm for.