The Royals Absolutely Needed To Make That Splashy Trade With The Rays
Updated: December 11, 2012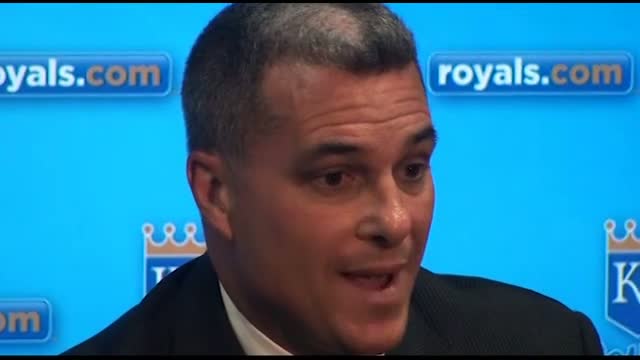 Now that some of the dust has settled on the enormous deal that the Kansas City Royals and Tampa Bay Rays just pulled off, it's time for some actual analysis.   Tampa sent starting pitchers James Shields and Wade Davis to Kansas City for minor leaguers Wil Myers (OF), Jake Odorizzi (RHP), Mike Montgomery (LHP) and Patrick Leonard (3B).  ESPN's lead prospects guy–and one of the two best baseball writers in the world along with Buster Olney–Keith Law, called the trade a heist for Tampa Bay.  Our own Max Frankel called the trade a coup for Rays Executive-in-Control Andrew Friedman, and Royals GM Dayton Moore was forced to answer questions about his decision making.  Moore's legacy will forever be linked to this trade and the hard work he has done to turn the Royals institution around over his last six and a half years will be defined by the outcome of this next season.
Some have written that Moore made this move with the clouded judgement of a man feeling a bit of job insecurity.  I'm here to say that this trade marks the time when the Royals finally become competitive.  They needed this more than the Rays need a new ballpark and Dayton Moore should be applauded for his efforts as GM over the last six years.
Keep in mind that I like this trade a whole lot more from the Rays perspective than I do the Royals, but Kansas City absolutely needed something of this magnitude.
Baseball culture's recent infatuation with prospect rankings and the possibilities of the next big thing leaves us blind to the benefits of certainty at the Major League level.  Wil Myers is the third best prospect in baseball right now and the most advanced pure hitting prospect in the game.  He's the guy in the minors who, if evaluators had to pick, would be the most likely to produce big power numbers in the 2013 season.  But that does not in any way mean that Myers will ever produce to those lofty expectations.  Jason Heywards, Mike Trouts, and Bryce Harpers do not grow on trees.  Guys who show promise rarely turn into absolute stars–there are only so many absolute stars in the world.  Effectively what the Royals and Rays have done is trade Major League certainty in James Shields' top notch arm and Wade Davis's back of the rotation stuff, for uncertainty in Myers' bat and a haul of slightly lesser prospects.
Rays fans should be excited because this is the type of trade that keeps their team relevant for the next few years.  It's what they've been doing quite well for about 10 years: swapping expensive (or soon-to-be expensive) talent for cheap but projectable youngsters.  James Shields was going to be gone in two years to a large free agent contract and Wade Davis had become a bullpen piece.  Both of the guys are legitimate Major League starters, but Tampa's insane pitching depth affords them this trade.
The deal should not be confused with waiving the proverbial white flag by the Rays.  They have restocked and repositioned themselves for the next few years as any small market team constantly needs to do.  It's part of the culture of a small market organization.  Plus they still have the AL Cy Young winner and Matt Moore to anchor their staff.
Royals fans should also be excited.  I know they'll be given to outcry over the loss of Wil Myers, but there is a lot to like about the deal too.  Come 2012, they will have a rotation able to consistently provide average starting pitching. that's been lacking since the Greinke days (and actually even then it was just every fifth day).  Combined with a young, talented lineup and a bullpen that could be the best in the Majors, this team will win games.  The rotation will not be a powerhouse (unless Ervin Santana and Wade Davis both turn into the number three type starter they've each shown flashes of) but the starters will not put the lineup out of striking distance nearly every game–like last year.
It's hard to say exactly what this type of trade will do for the psyche of the young position players, but having a rotation capable of winning a game 5-3, has to be a relief for a team that really believes in its young offense.  I'm not sure I believe in that offense as much as many, especially considering the hardships of Eric Hosmer last year, but the fanbase should at least be excited.  It's been said that he Royals have finally gone all-in, but how many times have we heard that before?  I'm not sure if we've ever seen them go this all-in before and it should be interesting to see how they do next season, and in 2014 as James Shields finishes his last year under team control.
For the Royals it was about finally making that move, announcing that they think they're here and ready to compete.  The Royals see the opening in much the same way the Blue Jays did.  The Tigers will not be as strong this year with Anibal Sanchez gone and Delmon Young another year removed from his skinny days (if he comes back).  The Indians will be sellers at the deadline and the White Sox are an enigma.  It was the right time for the Royals to step up, and I'm excited for their 2013 season.  As I've said, their fans should be too.
Who cares that you traded a top prospect if you win in 2013?  If the sun sets on April 1st and the Royals have put a whooping on the White Sox on behind 7 strong innings from James Shields, Dayton Moore and Royals fans will sport a smirk of satisfaction.
That said, if in six years Wil Myers is collecting his third straight MVP trophy, things could be rough financially in the Dayton Moore household.  Dad's headed for the unemployment line.