Kevin Youkilis is Still My Favorite Red Sox
Updated: December 12, 2012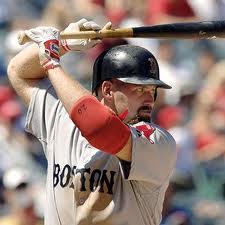 A Guest Post by a good friend of Off The Bench:
Ever since I liked baseball, I have always hated the New York Yankees. I chose to be a Red Sox fan in first grade, which was a highly controversial decision considering I grew up in the Westchester, New York suburbs. Even my dad was a Yankees fan. A vitriolic hatred of the Yankees that I shared with Mets fans was the only support I received in my town. In the following course of my public education, I only met one other Red Sox fan. I think his dad grew up in Massachusetts.
Now, pending a physical that he could fail because his body resembles that of David Wells, Kevin Youkilis will become a New York Yankee. That being said, I would like to reaffirm what I have been stating ever since Youk was unceremoniously traded to the White Sox this summer:
Kevin Youkilis is still my favorite Red Sox.
Kevin Youkilis was the ultimate team player. He always did what the organization asked him to do. He was left of the historic 2004 World Series Roster because they did not have room for another infielder. The next season, they continually sent him back up and down from the minors because the Red Sox did not have enough room on the bench. He was Major League ready at this point, and he was 26 years old in only his second season. In his first full season in 2006, the team needed a first basemen. They asked Youk to switch from third. All he did was become a Gold Glover.
In an injury-riddled 2006 season, Francona sometimes slotted Youkilis as the Left Fielder. If I were being nice, I can say that Youkilis looked uncomfortable in the outfield. I remember him dropping a ball hit directly to his mitt. But Youkilis did not complain when the team needed him.
When the Sox signed Adrian Gonzalez, who was disposed almost as quickly as Youkilis, Youkilis moved across the diamond, back to third. Last year, when the Sox were farming Will Middlebrooks, Youk sat on the bench for much of the season. The team needed their new prospect, so Youkilis sat for them.
Even trading him was Red Sox team-oriented. They no longer needed Youkilis, so they traded him away. I think his shocked and saddened response to a column in The Boston Globe exemplifies how much he truly cared about the organization.
Youkilis always obliged whenever the team asked him to, even though he deserved to say something. He didn't complain like Hanley Ramirez when asked to change positions. Not a word was said even though the Red Sox never made him a starter until he was 27. I always rued that his career years would be shorter than others.
I think it's despicable if any Red Sox Fan should boo Youkilis. He was the team leader. He was an extremely talented hitter. He was a fan favorite. I still miss chanting "Youuuuuuuk," as annoying as any non-Red Sox fan finds it.
What did Red Sox fans expect Youkilis to do when the Yankees offer him a contract? Say No? Any baseball fan who is angry that he signed with the Yankees is completely irrational. He is a professional and it seems like the Yankees offered him an amazing contract. Also, wouldn't you take $12 million dollars?
Many comparisons will be made to Johnny Damon. Outside from the letters on the hat switching, this is a completely different story. The Red Sox offered Damon a good contract, but he went to the Yankees for more money. In hindsight, Damon's production dropped off significantly after the first year, so perhaps former Red Sox General Manager Theo Epstein outsmarted everyone with the unheralded contract. But the issue is that Youkilis was not being welcomed back to the Red Sox.
I used to hate every Yankee player. But I can't boo Youkilis. He did too much for the Red Sox, was an extreme professional. He may be in pinstripes now, but he was the ultimate Red Sox. I'm glad that he has a place to play every day. Still, I hope the Yankees go 0-162.
I have a Kevin Youkilis Cooperstown Replica Jersey that I still intend to proudly wear at Red Sox games. I won't be like the fans who awkwardly changed "Damon" on the back to read "Dice-K." That Red Sox jersey will still and always read, "Youkilis #20."
-Jason Weitzman