Josh Hamilton is a… Los Angeles Angel
Updated: December 13, 2012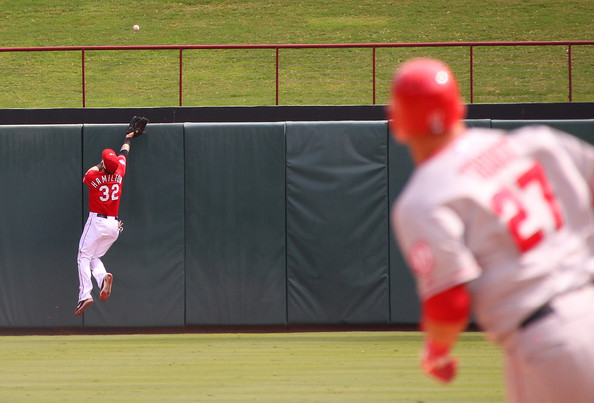 The Los Angeles Angels have added another Centerfield SuperFreak today in the form of Josh Hamilton.  Hamilton will presumably play Left Field alongside Mike Trout in Center for the next 5 years.  The deal is reported to give Hamilton $25 Million over the next five years in what is a surprise move that shakes the landscape throughout the Majors.  Hamilton's principal suitors were thought to be the Texas Rangers and Seattle Mariners, but Angel's owner Arte Moreno stepped in with the checkbook and signed off on a big deal.  It's interesting that Hamilton was linked so tightly with American League West teams.  It may have something to do with his desire to face Astros pitching 19 times a year.  I'm not sure, but I do know that the addition of Hamilton behind Albert Pujols and Mike Trout is downright scary.
Hamilton's reunion with CJ Wilson may have played a role, but I'm frankly wonder how close the two were in Texas.  His addition creates a murderers row of dynamic possibilities while leaving the Angels without any real starting pitching outside of Jared Weaver.  LA needs to realize that CJ Wilson just isn't that good and neither is Tommy Hanson at this stage of his career.  It's assumed that Peter Bourjos will be traded for additional starters, but the manchild defensive centerfielder has been relegated to backup status over the last year that may hinder his trade value.  I can't imagine the Angels have the assets to pull off a trade for an impact pitcher, but does that really matter?  They just signed Josh Hamilton and have what are potentially three of the five scariest batters to face in the Majors in the same lineup at the same time.
As for where it leaves the Rangers: they need some help.  They have lost Mike Napoli, Michael Young and now Josh Hamilton.  The potential addition of Jurickson Profar does little to offset Craig Gentry playing every day.  Their top-heavy starting pitching depth belies the lack of a real number two behind Yu Darvish.  Further, I'm not sure how Darvish will fair in his second season, but it's worth noting that Daisuke Matsuzaka posted a 2.90 ERA in his second year and Darvish looked nasty down the stretch.
Josh Hamilton to the Angels is big news.  He makes the Angels even more fun to watch.  I'll call it now: My favorite moment of 2013 will be when Vin Scully calls a Dodgers v Angels game.