Cubs Ink Edwin Jackson; Outlook Not So Good
Updated: December 20, 2012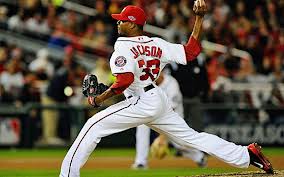 In the NL Central, the Reds and Cardinals sit on top. The Pirates are the next best team followed by the Brewers. Then, last, come the Cubs. They were abysmal last season, saved from the basement only by the historically bad Houston Astros. There is no doubt that this team needs to improve dramatically and there is no doubt that Edwin Jackson is a step in the right direction.
However, the reported $52 million over 4 years is a bit perplexing, and casts some doubt on club President Theo Epstein's plans for the future.
Jackson is 29 and has proven himself to be a marginally above average major league pitcher. Last season he was one game under .500 with a ERA just under 4.00, on a team that had the best record in the NL. Further, he's been passed around like a hot cake the last few seasons, playing for seven teams already in his 10 year career. It's good that he's finally inking a longer term deal–he's played well enough to deserve it–but he's clearly not the answer for anybody. Edwin Jackson is never going to lead you to the postseason, though he might be a number three starter on a championship caliber team.
Meanwhile, the Cubs won't contend this season. Likely, they won't really contend next year either. Optimistically, their first real shot at anything will come in 2015, when Jackson is 32/33 and in the third year of his four year deal. Now, 32 is definitely not too old to pitch effectively but, as we've established that Jackson is ideally a number three man, it means that the Cubs are paying a lot of money for two years of Jackson as a number three starter on a non-contender. Their hope is that he will, in a couple years, be a number three starter on a contender.
I know the Cubs aren't exactly punching pennies, but $52 million seems like an awful lot to pay a guy who will slot behind Jeff Samardzija and Matt Garza in a rotation on a bad team. Is Jackson really the most effective use of that money? If Jackson is a three now and will be a three later if they contend, wouldn't it be wiser to spend the cash on an Ace or a number two? Why commit so much time and money to a slightly better than mediocre player? Didn't Theo learn from his Red Sox days?
In my opinion, it would make more sense for the Cubbies to take the money they were going to use for the little splash of signing Jackson and turn it into a big splash latter. Why not make a play for Robinson Cano next winter? How about Curtis Granderson? Maybe a trade for Andre Ethier. All of those guys would help build a winner more than Jackson.
My issue with this signing isn't the player, I think EJax is a good pitcher and the Cubs will win more games with him than without him. My issue is that the signing is clearly a harbinger of a poor long term strategy. It doesn't make sense to make such a big investment on a guy who will serve the same role on your crappy team now as he will if you get a good team later. Obviously, that means that there are other issues to address. If the Cubs think Jackson can headline their rotation, they are delusional. If they think he can be a number two, they  are pushing it if they really want to contend. As a number three, the role he's best suited for, he wont turn a non-contender in to a playoff team, he'll only push a contender over the top.  If they are going to get out of the cellar, the Cubs are better off spending their time, effort, and money improving their team in ways that will have a greater impact.
Fact of the Day: It is common knowledge that should the President of the United States die, resign, or be removed from office, the Vice President assumes the Presidency. It is also well known that the Speaker of the House of Representatives, followed by the President Pro Tem of the Senate, then the Secretary of State, the Secretary of the Treasury and so on in the order the position was created, are next in line. What is less known is that only the Vice President can become president. According to a 1947 law, if any of the other members of the line of succession assumes the office, they would become merely Acting President, even if they hold the post for four full years.