The Baltimore Orioles Must Sign Kyle Lohse
Updated: December 21, 2012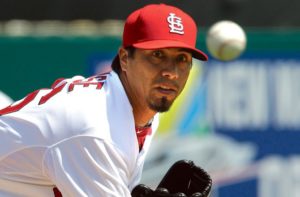 Kyle Lohse is the best starting pitcher available on the free agent market and the Baltimore Orioles need to do what it takes to get him. Last year, the O's won one of the AL's Wild Card spots in impressive fashion and advanced all the way to the ALDS to the surprise of almost everybody. They did it with a solid offense, a spectacular bullpen, and a very lucky starting rotation.
Rookie Wei-Yin Chen lead the way last season and was the only O's pitcher with more than 20 starts. Jason Hammel and Tommy Hunter made 20 apiece, and the rest of the season was mostly piecemeal that showed off Buck Showwalter's genius. For God's sake, Joe Saunders started–and won–two playoff games.
Last year the Orioles caught lightning in a bottle and they should feel great about it. But lightning rarely strikes twice. Dan Duquette's club needs to improve to maintain the momentum, and fan base, that they gathered in 2012. Though the Blue Jays have improved dramatically and the Yankees and Rays are still powerful teams, the Orioles can still be a factor. That said, why on earth would Baltimore pass up the opportunity to improve upon their real, glaring weakness: the starting rotation.
So far this winter, Baltimore's additions have been Trayvon Robinson, Danny Valencia, and Alexi Casilla. None of them should start for this team–and certainly not in the rotation.
They've already missed out on some of the higher caliber starters, but luckily Kyle Lohse is still available and he can be that veteran, innings-eating, wins-posting, rotation-stabilizing force that might push this team over the top. Lohse was a very impressive 16-3 with a 2.86 ERA for that Cardinals last season. Perhaps most importantly, he led the NL in games started with 33. His 3.9 WAR was a career high in 12 seasons in both leagues, which is a little alarming, but perhaps he's figured something out. Either way, his WAR well exceed Chen's, and Baltimore has to be at least mildly concerned that the Taiwanese phenom won't be able to replicate his outstanding rookie season.
Lohse can be the ace the Orioles need. He can take pressure off of Chen and some of the other starters by slating into the top spot. He can take pressure off of Showwalter by eating between 180 and 200 innings a season and likely doing a better job of it than Buck's other options would.
The Orioles have money, they play in a relatively big market and their windfall from last season's success/uniform change made headlines. They entered this offseason with cash in their pockets, and really they just haven't used any of it yet. I'd say offer Lohse around 3 years at $30 million and do what it takes to get him in an Orioles jersey. I think it's unrealistic to expect him to replicate his success from last season in the AL East, but he can be a really effective and really valuable pitcher.