Arizona Diamondbacks' Cody Ross Signing Makes Sense
Updated: December 25, 2012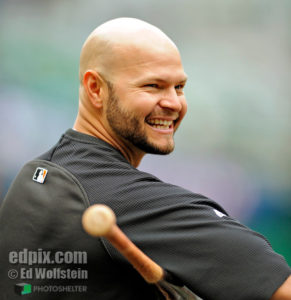 Cody Ross and the Arizona Diamondbacks have agreed to a $26 Million, three year deal.  While I'm not sure I like the length of the deal for the Diamondbacks (it potentially blocks Adam Eaton's growth at the Major League level) it certainly makes Arizona a better team in the here and now.  The Ross signing can't be viewed in a vacuum, and anyone initially blasting the Diamondbacks for acquiring yet another outfielder needs an exercise in patience and some yoga.  Ross is certainly the beneficiary of the solid year he put together in Boston and the attention he got for being the Red Sox' only solid, consistent contributor.  Discussing whether Cody Ross is really the 22 homer type of player he was in Boston is not all that worthwhile.  He's certainly a 15 homer, .270 type (.267 career average).  Cody Ross is what he is: a solid LF/7-hitter on a good team and just got paid like one.  Let's leave it at that and figure out why the deal makes sense.
The industry perspective is that the signing makes little sense because the Diamondbacks already have four guys competing for three spots in the outfield with Jason Kubel, Gerardo Parra, Adam Eaton all legitimate options.  I don't really care.  Having traded away Center Fielder Chris Young and loudly shopping Justin Upton, signing Ross gives the Diamondbacks a solid veteran presence and further freedom to pursue outfield trade options that GM Kevin Towers loves.  Maybe that is the real impetus behind this signing: Towers loves talking trades for his outfielders.  Still, in signing Ross, Towers has virtually necessitated a future trade if he is to roundly improve his ballclub in both the short and long term.
Early indication is that the D'backs are most interested in dealing Kubel.  If they think they can get comparable production out of Ross, Kubel is expendable and he is well regarded by other organizations.  There figures to be a bunch of teams interested.  Kubel is just coming off a 30-homer campaign, and those campaigns don't happen every year for just anybody; Towers should pull the trigger only for a big return, not just a B-level prospect.
The Ross signing eaves Arizona heavy at the corners, but still a bit light in the middle with Gerardo Parra.  In the wings they have Adam Eaton.  Eaton has hit ever since the .297 BA he posted in his freshman year at University of Miami-Ohio.  He's motored through the minors with his bat, and the short outfielder (5'8) hit .259 with a .382 OBP last year in 85 September at-bats, and plays a solid Centerfield.  If they trade Parra and let Eaton take over in Center, they're still left with three established Major League bats to fill two positions.  You can't sit Justin Upton, and it equally hard to sit either your returning 30 homer guy or your new $26 Million signing.  Something's got to give.
No matter how the inevitable trade shakes out, the Ross signing is great news for the larger Diamondbacks system.  It allows them to continue stockpiling talent.  Whoever departs form the Major League roster, they'll command a significant minor league return.  Let the mad scientists in Arizona do everything they are going to do.  Give them the rope to hang themselves by, just know that they very well may produce a winner in the desert in 2013.