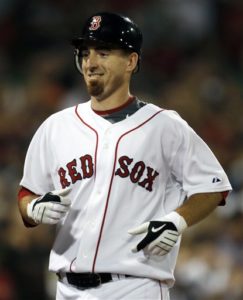 Rumor has it that the Boston Red Sox are currently in discussions with free agent first basemen Adam LaRoche. In light of the state of the franchise, the other teams in the AL East, and the other additions the Sox made this winter, this is a bad idea.
To figure out why this is a bad move, we need to start at last season. Boston lost more than 90 games for the first time in recent memory. They finished last in the AL East and in the process dumped veteran stars Adrian Gonzalez, Carl Crawford, and Josh Beckett. They also learned that they have significant holes in their rotation as Clay Buchholz and Jon Lester had terrible seasons. At the start of the winter, they had to fill all those voids (starters, left fielder, first basemen) while also dealing with holes at shortstop and potentially behind the plate. Further, star centerfielder Jacoby Ellsbury is only a year away from free agency and is likely to leave. Why is he likely to leave? Because the Sox have, supposedly, learned from their mistakes with Gonzalez and Crawford and are going to shy away from big money, long term deals in the future. Keep this thought in mind as we go forward.
Now that we've covered the Sox, let's look at the rest of the division to further set the stage. (Remember, all of these teams were better than Boston last season.) First, let's look at the Yankees. The Bombers finished first in the AL East and, although they haven't done much to improve this winter, they certainly aren't much worse than the team that won 95 games and made it to the ALCS in 2012. They've locked up a solid starting rotation and have one of the deepest lineups in the sport even without Alex Rodriguez (or maybe because they're without A-Rod.) They remain the team to beat in the East.
Next, the Orioles. The O's surprised everyone to finish second in the division and won the Wild Card game. They won 93 games last season and still have the same rock solid core coming back. They cannot be taken for granted.
The Rays won 90 games last year as well. They've locked down Evan Longoria and, though they lost James Shields, they still have maybe the deepest rotation in baseball and have major reinforcements coming mid-season in the form of super-prospect Wil Meyers.
Then there's the Jays. As is well known, they've transformed their team adding Josh Johnson, Mark Buehrle, Jose Reyes, Emilio Bonafacio, Melky Cabrerea, and RA Dickey. They might be the favorites to win this division right now and look really really solid coming into the season.
Based on all of this, it seems that Boston's window to really compete is closed for a couple of years. It seems like the most prudent course of action–given their team composition, the rest of the division, and their new aversion to big time contracts–would be to sit back and wait for some of their top prospects like Xander Boegarts and Jackie Bradley Jr. to develop. Then, after taking some time to carefully assemble the right team, go for it all in a big way. They certainly have the resources and experience necessary to win it all.
Instead, the Sox have, curiously, added a number of overpriced, old, veterans. Their signings seem more like additions to a team that's almost there than foundational pieces on a last place team. I couldn't find a list of all the Red Sox additions this winter so this is off the top of my head: Shane Victorino ($39 million over 3 seasons is waaayy to much for years of likely non-competitive baseball), Ryan Dempster (2 years for $26.5 mil, same comment as Victorino), Koji Uehara (37 years old), David Ross (old but good backup catcher, the quintessential push the team over the top/add depth piece), Stephen Drew (1 year deal for as much as $10 mill; possibly the biggest evidence they are not planing on taking a 'rebuilding year') and, possibly, Mike Napoli (again, old and too much money).
The signings seem to indicate that the Sox are going to try to compete next year. Why else would you pay older players so much on short term-ish deals? This makes no sense because these players (especially Victorino) really aren't that good and the division is so much better than last year–when the Sox finished last. Boston appears headed for another expensive losing team.
Adam LaRoche would simply add to this mistake. He's 33 and looking for a 3 year deal. While he's good (.271, 33 bombs last year) he's not the type of guy who can carry a team in the AL East. (He's a much better fit in Washington, but as that's not a concern for Boston, I'll avoid the issue here.)
Adding LaRoche to the group of 30+ expensive players Boston's already added is lunacy. Why do they think this is a winning formula? What model are they following? None of the players they've signed in an effort to win now will be able to deliver on that promise. Like one writer said recently, the Sox have spent a lot of money to be very mediocre next season. Signing LaRoche for another $30+ million won't do anything at all to change that.
-Max Frankel