Some Bold 2013 Predictions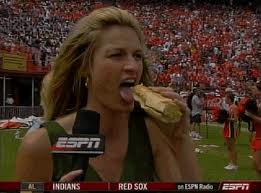 As the calendar turns to lucky '13, the core duo at Off The Bench ponders the realites  of graduation and "the real world." What better time to return to our roots and give readers some Bold Predictions for 2013. If you're unfamiliar with our Bold Predictions, they are generally unsupported conjectures and may or may not be all that bold. They could be silly, witty, or snarky, and the extent to which we believe they will happen varries with each statement. Enjoy.
The Angels win the World Series.
RA Dickey has a losing record, but pitches well.
The Orioles are good again.
Erin Andrews gets hit by a foul ball covering a Rays and Red Sox game for Fox Saturday Baseball.  Desmond Jennings, who hit the ball, then takes up pitching because he's so scarred by the incident. 
Josh Hamilton, Albert Pujols, and Mike Trout are all very good.
Aroldis Chapman is really good as a starter.  Like sub-3.00 ERA good over 150 innings.
The Yankees eventually sign a catcher. (Trust me, that's bold.)
Gorkys Hernandez hits over .240  (He's a 25 year old outfielder for the Marlins and therefore potentially the most irrelevant player in the Majors).
Roy Halladay pitches more than 110 innings, but fewer than 140.
The Dodgers, Giants, Diamondbacks, Padres, and Rockies all finish the season.
The Padres have the best team ERA in the NL West.
The Heat and Thunder put on an absolute show in the NBA Finals with the Heat coming out on top for LeBron's second straight NBA title.
The Cardinals try out Tony La Russa in Left Field.
Jack Reacher (the Tom Cruise character from that movie) cracks our best outfielders rankings. I'm not sure if he plays baseball in the movie or not.
Jason Heyward finishes 4th in the MVP voting.
Michael Bourn signs with the Yankees for one year and then signs with the Diamondbacks next offseason.
Trevor Bauer is bad.
Troy Tulowitzki posts a 5.9 WAR
Baseball continues to grow, blossom, and remind us all that it is still the best sport in the world.
 Here's to a great, healthy, happy new year.  Only 60 days until the World Baseball Classic starts.