Anthony Rendon: A Name To Know In 2014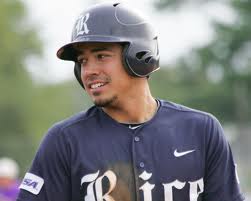 Early last year, Sean nailed it with his prediction that Jurickson Profar would emerge as a player to watch. He predicted that Profar, though young, would become a top notch shortstop quickly. Last year, the now-20 year old fulfilled the prophecy and heading into this year, he's a front runner for a starting spot on a back-to-back-to-back playoff team. Now, I'm going to try to catch lighting in a bottle again and profile Washington Nationals' prospect Anthony Rendon.
Rendon, 22, was drafted out of Rice, 1st round, 6th overall pick, in the 2011 First-Year Player Draft. Rendon is a third basemen by trade, but could possibly switch to second base if need be. (I think the move would help him get to the bigs faster.) Last season, his first in the minors, Rendon battled a partial fracture in his ankle that sidelined him for more than three months. He ended up playing only 43 games including 21 in AA, the highest level he reached. Rendon struggled quite a bit in AA, hitting .162 with 3 homers but still finished with a .363 cumulative AVG last year.
Once healthy, Rendon showed what he can do in the  Arizona Fall League. Batting fourth on a team that included some of Washington's top position players, he hit .338 with a .930 OPS. He also walked 15 times against just 14 strikeouts in 77 ABs.
Ranked the top prospect in the Nationals's system–a system that recently produced Stephen Strasburg and Bryce Harper–Rendon is a defensive stud with plus power and even adds some speed on the bases. In college, he was named Freshmen of the Year after a .388 campaign with 20 homers in 2009. Most impressively he had a .496 OBP that year. In his sophomore season he won too many accolades to mention and his homer total of 26 was not only the second highest single season total in Rice history, it was greater than the number of times he struck out: 22.
At the big league level, the Nationals have Ryan Zimmerman entrenched at third base for the foreseeable future, but Danny Espinosa and Stephen Lombardozzi are currently a less-than-overwhelming tandem at second. If Rendon switches to the middle infield, he can be the long term second basemen in our nation's capital.
Rendon likely won't arrive in DC until late in the season, September most likely, but that more a reflection of the Nats' best-of-the-NL roster. Come late 2014 however, it is very possible that Anthony Rendon becomes a mainstay in the Nats' lineup. That it already features Harper, Zimmerman, Denard Span, Jayson Werth, and Ian Desmond is downright scary. This could be the best lineup in the league for the better part of the next decade.