Three Possible Giancarlo Stanton Trades That Actually Make Sense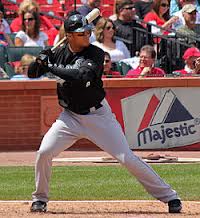 Jon Heyman, one of baseball's best and most trustworthy reporters, cited a source within the Miami Marlins organization that said that there is "zero percent" chance that the Marlins deal young, talented, and disgruntled slugger Giancarlo Stanton this winter. However, I thought it might be a fun exercise to try to come up with a few potential trades that the Marlins would be interested in if they changed their stance. After all, it might be the correct "baseball decision" for a non-competitive organization. In doing this, I've taken into account Miami's desire to shed salary and, presumably, compete in the future by stockpiling cheap and talented young prospects. Thus, you won't see any expensive veteran players going to South Florida in any of these trades.
Marlins trade Giancarlo Stanton to Braves for Julio Teheran, Evan Gattis, and Sean Gilmartin
Why Miami Does It: The Marlins get a massive haul of near big league ready prospects in this deal. Teheran is one of the best pitching prospects in baseball and has the potential to be a top of the rotation star for the next decade. When they dealt Anibal Sanchez and Omar Infante to Detroit, the Marlins got Jacob Turner, another top of the rotation guy with superstar potential, and the two of them could be a top notch one-two punch to rival any in the big leagues.
Gattis is tearing it up in his Winter League this offseason. I believe he leads the league in homers. He's not quite ready to play in the majors, but he's close and could be a strong, power hitting left fielder going forward. He seems sure to be a future starter, and with a great Spring Training could be the Braves opening day left fielder, allowing them to move Martin Prado to third full time.
Gilmartin is a quality prospect who seems likely to a big league starter. He's a back of the rotation guy at best but that's still valuable and he's still one of Atlanta's top young players.
Why the Braves Do It: Yes, Atlanta is trading the whole farm in this fake deal. Previously, they've been very hesitant to discuss Teheran in any deal, but the allure of Stanton might be too much. With Giancarlo in left, BJ Upton in center, and Jason Heyward in right, Atlanta would be pushing to have all three All-Star starting outfielders every season for the next five years. Stanton would elevate this team to a different level and make the Braves serious contenders– not just for the NL East crown, but the pennant for at least the next few seasons. With a contract extension, Stanton could change the future of the organization in a major way.
Marlins trade Giancarlo Stanton to the Texas Rangers for Jurickson Profar
Why Texas Does It: I decided to stay simple with this trade and leave out any other prospects that Texas would presumably have to send to Miami. The Rangers have guarded Profar fiercely of late, refusing to even talk about trading him. They think he's going to be a star and they're probably right, but I bet they'd listen if Miami called with this deal. While Profar may be great, Stanton is great. The Rangers already have an All-Star shortstop that most teams would covet and they just lost a power hitting outfielder. Stanton would make the team and the fans forget that Josh Hamilton ever existed.
Why Miami Does It: As I said, Profar will be a star. He's 20, plays a premier position, and is under team control at virtually no cost for years. The Marlins would play him immediately and he would put a few people in the seats.
Marlins trade Giancarlo Stanton to The Boston Red Sox for Jose Iglesias, Garin Cecchini, and Matt Barnes
Why Miami Does It: Jose Iglesias is a stud defensively. He can't really hit but he has the potential to be baseball's best defensive shortstop and win a whole cabinet of Gold Gloves. He could be a bottom of the order mainstay for Miami going forward. Cecchini is a slugger who can hit for average as well as power. He might not be a third basemen long term but the Marlins would have the luxury of fast tracking him to the pros and giving him a shot there. He could be a middle of the order guy with his type of upside.
Barnes is the prize in this deal. Coupled with Cecchini, he makes it worth it. Barnes is a 6-4 righty who throws heat and, by 2014 could be a legitimate big leaguer. By 2015, he could be a solid number two behind Turner.
Why Boston Does It: This actually makes a ton of sense for Boston. Iglesias is an offensive liability and the Sox have another, better shortstop prospect in Xander Boegarts. Likewise, Will Middlebrooks seems poised to hold down the hot corner at Fenway for the foreseeable future, making Cecchini expendable.
Barnes is the second best prospect in the Sox's system and would be a big loss, but worth it for Stanton. Giancarlo could play right, moving Shane Victorino to left, or move to left and learn to play the Monster. He would hit third in front of David Ortiz and give Boston some scary power and some much needed depth in their order. This year, he would go a long way towards making the Sox the contender that GM Ben Cherrington thinks they are. In the long run, Santon would make the transition from Jacoby Ellsbury's offense in center to Jackie Bradley's defense easier by providing a lot of pop. Most importantly, he'd be a thorn in the Yankees' side for the next eight years or so.