Michael Morse To The Yankees Needs To Happen
Updated: January 11, 2013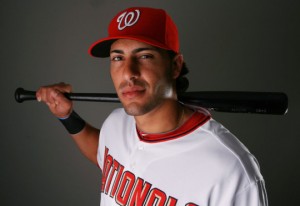 Michael Morse might be the best player in baseball without a starting job.  Two years ago, he hit .303 and swatted 31 dingers. Last season, he missed a whole chunk of games but still managed to bat .291 with 18 homers and prove that the previous season wasn't a fluke. He's never been an All-Star however (if that means anything, which it doesn't) and he is already 30 years old.
With the resigning of Adam LaRoche by the Nationals this winter, in addition to the addition (see that I did there?) of centerfiedler Denard Span, Morse is without a home in the Nats starting 9:
Denard Span (Cf)
Jayson Werth (Rf)
Bryce Harper (Lf)
Adam LaRoche (1b)
Ryan Zimmerman (3b)
Ian Desmond (ss)
Danny Espinosa/ Steve Lombardozzi (2b)
Kurt Suzuki/ Wilin Rosario (c)
See? Even though Morse can play both corner outfielder spots and a serviceable first base, he wont get a chance in the everyday lineup. The Nats are pretty stacked on the bench too, with Tyler Moore among others coming Off the Bench (see that one?).
Conveniently, the New York Yankees happen to be in the market for a right handed hitting corner outfielder who can occasionally play first base. They need some offense to compensate for the black hole that will be the catcher's spot in their order and they need to replace the production of Nick Swisher, now of the Cleveland Indians. 
Morse fits perfectly. His bat will certainly play in the Bronx and right field there isn't particularly difficult. Moreover, he would lengthen the Yankees lineup dramatically providing a guy who can hit a healthy number of longballs and have a decently high average in the lower half, protecting Mark Teixeira and Curtis Granderson. As a right handed hitter, he'd help balance the lineup that tends to be a bit too left handed.
Further, his addition as the more or less everyday right fielder would allow the Yankees to use Ichiro as a DH, and spot outfielder when the Yanks play a particularly challenging outfield in a road park (think Fenway with all its idiosyncrasies). By having a couple of DH options who can also play the field, the Yankees can move older folks, like Derek Jeter, into that spot without messing with the lineup too much.
Also, Morse's ability to play first on occasion will help the Yankees when Texiera needs an off day, much the way Swisher moved into the infield periodically.
Without Morse, the bombers have issues. They have to count on Ichiro being a starting caliber everyday player. They have to count on Jeter being healthy and productive. And they have to count on monster seasons out of the 3-4-5 hitters in the order. Really, they need A-Rod to come back and be A-Rod.
With Morse, pressure is taken off of Kevin Youkilis at third and all of the guys mentioned above. With him, the Yanks can afford (a little better) to have their catcher postion be as terrible as it looks. Morse gives the Yankees much more flexibility, depth and another big bat in the lineup.
To get him, I wouldn't hesitate to trade one of the "big" starting pitching prospects in the Yankees system, Manny Banuelos or Dellin Betances, who appears to be in the need of a scenery change.
The Yankees: (the way I would do it)
Brett Gardner (Lf)

Derek Jeter (ss)
Robinson Cano (2b)
Mark Teixeira (1b)
Curtis Granderson (Cf)
Mike Morse (Rf)
Kevin Youkilis (3b)
Ichiro Suzuki or others (DH)
NOBODY (C)