Justin Ruggiano Is The Man
Updated: January 14, 2013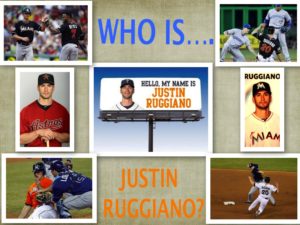 Miami Marlins outfielder Justin Ruggiano is The Man.  He was finally given a shot to play extended time for the Marlins in 2012 and took advantage of it.  The 30 year old took over in centerfield after (my boy) Emilio Bonifacio was injured.  All Ruggiano managed to accomplish was hit .313/.374/.535, with 13 home runs and 14 stolen bases in 91 games.  He was the hottest hitter on the planet for a stretch in late June/early July.  From June 27th to July 7th, as part of a 10 game hitting streak, Ruggiano hit .429 with 3 homers and collected 3 steals.  Over the course of the year, Sir Justin was the third most valuable position player on the Marlins with a 2.8 WAR. He had a very successful season by any calculation (including my stat: Ruggiano's SPP was .590), but the stats are not what makes him The Man.
Ruggiano was in the Tampa Bay Rays system for 7 years before he was traded to the Astros in the winter following the 2011 season.  The Astros then sent him to the Marlins and he blossomed from there.  Last year, 2012 marked the first time he was given extended playing time (over 100 at bats at the Big League level) and he contributed steadily.  Maintaining that level of commitment to your craft and continuing to pursue excellence is a model for us all to follow.  In a recent interview with FanGraphs, Ruggiano said basically that there are a lot of guys at the AAA level who can contribute at the big league level if given the chance.  I'm not sure I completely agree with His Ruggiano-ness, but he knows more AAA players so I will defer on this score.  In reading that interview, you can sense that Ruggiano is relieved he was finally able to prove himself.  Wanting and knowing you can contribute at the big league level and actually having done it are two separate things and I applaud Ruggiano's awareness in saying that.
But, what really makes him The Man can be summed in a short sentence: "I got this."  Ruggiano, through the magic of Twitter, was able to provide a light hearted moment in the wake of the Marlins' salary dumping fiasco.
Ruggiano's confidence is a bit overstated here, though that's really the point.  Rosenthal had overlooked Ruggiano's production in 2012.  Most people have overlooked Ruggiano throughout his career and failed to give him a chance.  Ruggiano did not let us overlook him in 2012, on the field or on Twitter.  He's The Man and I wish him all the best going into spring training. Marlins president Larry Beinfest has said Ruggiano will compete with Gorkys Hernandez and Bryan Peterson for the starting job in center field.  
One last reason why Ruggiano is The Man. When asked why he was successful in 2012, Ruggiano's response was great: "I guess I just swing hard in case I hit it. That's all I can say, really."