Looking At The Milwaukee Brewers In 2013
Updated: January 23, 2013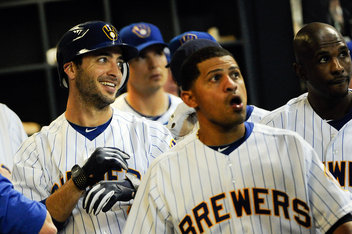 Year one without Prince Fielder for the Milwaukee Brewers ended a little sooner than most had hoped. After making the playoffs in 2011 and winning a total of 96 games, they only managed 83 wins in 2012 while finishing third in the National League Central. The question is, have they made enough moves to contend for a playoff spot in 2013?
The biggest loss for the Brewers this offseason has to be Zack Greinke. Yes, he was traded during the year in 2012, but this will be their first full season without a true ace to rely on. With tough lineups like Cincinnati and St. Louis in the division, it is important that they find a few arms that will keep them in games.
Yovani Gallardo will likely move up into that #1 spot in the rotation, with Marco Estrada, Michael Fiers, Mark Rogers and Chris Narveson making up the remaining spots. For the casual baseball fan, Gallardo might be the only well-known pitcher currently on the staff.
With the rotation looking young and inexperienced, the Brewers will once again rely on their offense to provide quite a bit of value. A perennial MVP candidate, and superstar, Ryan Braun of course headlines that lineup. One of
the best five-tool players in the game, Braun will be in the middle of a top-10 offense in baseball.
Rickie Weeks, Aramis Ramirez and Corey Hart are all proven veterans, but the key to 2013 for the Brewers will be the performance of role players such as Norichika Aoki, Carlos Gomez, Jean Segura and the like. They have plenty of young talent ready to take that next step, but having to put up big scores each night could wear on them a bit.
Deservingly so, the Brewers are as of now predicted to fall into the third place position in their division. The Reds and Cardinals are hardly invincible though, which means Milwaukee  will have a shot if the pitching overachieves. Many look at the Brewers as being stuck in the middle right now, and how they play in the first few months will determine if they are ready to rebuild or piece together a stronger contender with veteran arms.
- A Guest Post From a friend of Off The Bench