Braves Trade From Strength, Create Dynamic Outfield
Updated: January 24, 2013
The Atlanta Braves and Arizona Diamondbacks have agreed to a swap that sends Martin Prado to Arizona and Justin Upton and Chris Johnson to Atlanta.  My initial reaction as a Braves fan: HELL YES. I wrote last night of the dynamic possibilities that the Upton brothers (Justin's older brother BJ was added to the Braves earlier in the offseason) and Jason Heyward could bring to the Turner Field outfield.  Now that the deal is reportedly finalized, let's examine it more fully.
To Arizona: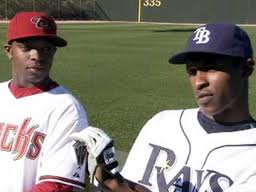 3B/OF Martin Prado

RHP Randall Delgado
RHP Zeke Spruill
SS Nick Ahmed
3B Brandon Drury
To Atlanta:
OF Justin Upton

3B Chris Johnson
I'm assuming most of you who have happened across this blog know about Justin Upton's prowess, but may be a little less familiar with Chris Johnson.  I've been on record as being a big Chris Johnson fan.  In his rookie year with the Astros in 2010, Chris hit .308 with 11 homers in 341 at bats.  Those numbers were admittedly buoyed by a .387 BABiP, but he returned to form in 2012.  Last year, between his time in Houston and Arizona (where he was traded midseason as part of a deal that sent Bobby Borchering (minors) and Marc Krauss (minors) to Houston) Mr. Johnson hit .281 with 15 homers in 136 games.  Word is that he's going to split time at least initially with the powerful Juan Francisco at third.  The guess here is that one of the two is going to get hot early in the season and get the majority of the reps.
As for the guys going to Arizona, Diamondbacks fans should be excited about having Martin Prado on the roster.  Prado compiled a 5.9 WAR and by all accounts is as good of a guy as there is in the game.  He's an extremely hard worker and goes about his business in a way that earned the respect of Braves fans.  Randall Delgado pitched for the big Braves last year to mixed success.  I'm not so sure that he'll ever be an Ace, but Anibal Sanchez could be his ceiling.  He'll throw alot of strikes and mix in a plus changeup to go with his mid-90s fastball.  He's certainly a major League level pitcher.  I'd be surprised if he's not in the Diamondbacks rotation out of Spring Training.  Tyler Skaggs will be in the Bigs at some point in 2013, just not in April.
The other three guys are prospects at this point.  Zeke Spruill is probably the mostly highly regarded, but he's probably the Braves third best pitching prospect right now.  That's not necessarily a bad thing.  Spruill spent 2012 in Double-A Mississippi , going 9-11, 3.67 with a 106/46 K/BB in 162 innings, allowing 158 hits. He works with a low-90s sinking fastball and shows an above-average changeup.  He gets by on a funky delivery, but should be a major league reliever at worst.  Nick Ahmed is expendable for the Braves given the emergence of Andrelton Simmons.  Ahmed is a speedy little shortstop that can flash the leather. He hit .269 in High-A last year so I'm not sure that he'll ever be great.  In my mind Brandon Drury was a throw in given that he hit .226 last year.  However, he hit .347 in 2011 so you never know.
Basically, the Braves traded from their positions of strength (Shortstop and Starting Pitcher) and added a legit power outfielder.  The Diamondbacks traded a guy that they had to trade in Upton and added a very good third baseman, who will be a free agent at the end of the year, and some guys that should help.  I really like the trade for both teams, given what the Diamondbacks had done to themselves.  Make no mistake: because of the contract situation of Martin Prado, this is a worse package than what the Mariners offered for Upton.
Braves fans should be excited about this.  I know I am.
Diamondbacks fans should be excited about this.  The real fans will be at least.
Tidbit of the Day: About 3.5 years ago, the author was on record–nay, on tape–being very excited about Chris Johnson.  Quote: "It's on son… like Chris Johnson."  (True friends of Off The Bench know what we're talking about here.)