Cashman Says Yankees Likely Done For Winter… Uh Oh
Updated: January 26, 2013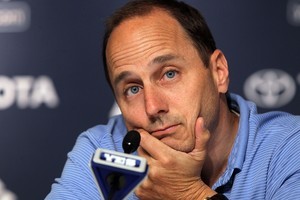 On a radio interview on New York's WFAN radio yesterday, Yankees' General Manager Brain Cashman said that other than potentially adding a right handed "caddy" to help spell his left handed hitting outfield, the Bombers are likely done for the winter. For fans of the team, this is a serious problem. We are currently relying on an incredibly old starting lineup with virtually no depth behind it. Since when is this a formula for success?
The Yankees have two major problems right now, but before I get to them, let's look at some things that aren't problems to help get some perspective. The Yankees infield is solid. It's old, but it's solid. Robinson Cano is the game's best second basemen and if Alex Rodriguez is going to be out an extended period, Kevin Youkilis isn't a bad fill in, all things considered. Mark Texeira is still in the conversation as one of the best first basemen in baseball but in order for New York to really compete, he needs to play at a very high level. No more .100 batting average in April, getting semi-hot in June and finishing with a .250-ish BA. That won't cut it. He needs to hit at least .280 to justify his salary and compensate for the lack of pop elsewhere in the lineup. Finally, Derek Jeter is old and coming off a serious injury but if he can play 2.0 WAR ball at short this season, the Yankees should be ok there.
New York is also pretty set on the pitching front. Though Phil Hughes and Ivan Nova are weak links and Mariano Rivera might be a question mark coming off of surgery, there's really no way to complain about this group. It's not the best in baseball, but it is solid top to bottom and definitely a rotation and bullpen that can pitch a team into contention.
So that gets us to the two glaring weaknesses in the Yankees' lineup. The first is in the outfield. Right now, the starting three are Brett Gardner, Curtis Granderson, and Ichiro. Gardner is a productive slap and speed guy who is arguably the best defensive left fielder in baseball. No complaints. Granderson might be one of the three best centerfielders in the game and is drastically under rated. Last season, in addition to above average defense he hit 43 homers, his second straight 40 HR season. If we stop thinking of him as a top of the order guy who is supposed to get on base and accept him as a home run hitter who won't hit much higher than .250, we can see how good he truly is.
That brings us to Ichiro. Ichiro is older than the 39 years he's spent on Earth.  He is old and he hasn't preformed well over the past two seasons as an every day starter. Ideally, he's a fourth outfielder with a strong, right handed hitting every day right fielder in front of him. Ichiro is a great guy on this team if you can find him 90 starts spread over all three outfield positions and DH. Problem is, the Yankees don't have that luxury.
They now have a power hole in the middle of the lineup left by Nick Swisher and Alex Rodriguez and are counting on Granderson, Texeira, and Cano to fill it. That might be good enough to contend, but last year they had Arod and Swish and that didn't get them to where they wanted to go.  Remember it's World Series or bust every year.
As if that wasn't bad enough, the Yankees have compounded their offensive concerns with the fact that THEY DO NOT HAVE A CATCHER. THEY DO NOT HAVE EVEN ONE VIABLE CATCHING OPTION. Austin Romine needs to spend the year in AAA. He's not ready yet, maybe next year. Chris Stewart was the backup last season behind a guy who hit .205.  If he was good enough to start, there would have been at least some conversation about it last season when Russel Martin was below the Mendoza line. Finally, Fransico Cervelli, the frontrunner for the job, wasn't even good enough to make the team last season. I read something about Jorge Posada coming out of retirement for God's sake.
Why do the Yankees think this is ok? Why isn't this getting more attention? Do they think that catcher isn't an important position? With the competition in the AL and the AL East, the Yankees are fooling themselves if they think the answer is in guys like Russ Canzler. They need a catcher. I can't say that any more clearly and if Brian Cashman doesn't see that his team as presently constructed is the fourth best in the division, he's fooling himself.