Ronnie Cedeno Signs With The Cardinals; Cardinals Guaranteed To Lose NL Central
Updated: January 28, 2013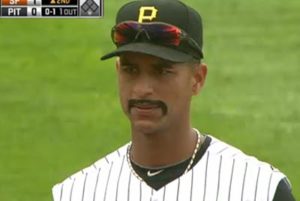 Big, huge, gigantic news today out of St. Louis: the Redbirds signed utility infielder Ronnie Cedeno to a 1 year, $1.15 million contract with incentives that might make it worth as much as… $2 million. Why is this such an amazingly big story? Because Ronnie Cedeno is the WORST BASEBALL PLAYER IN BASEBALL. He makes any team worse simply by virtue of his presence. Anyone who reads this blog regularly knows how I feel about Cedeno. In fact, lots of people apparently know how I feel about Ronnie "The WORST Player in Baseball" Cedeno–I received a whole bunch of texts today trying to console me.
There are two terrible things about this Cedeno signing. First, a proud and storied franchise that tells its fans that it is trying to win as many baseball games as possible–in fact a team that made it all the way to the NLCS last season–has clearly given up on 2013. That's the only possible reason for signing a player that makes "replacement level" look like Mike Trout.
Second, this deal was NOT for league minimum! Can you believe that?!?! Ronnie Cedeno is making more than a MILLION dollars to play professional baseball. I'm incredulous. This is a scandal! There should be hearings! Get Congress involved! Do something!
Just as an academic exercise, let's take look at some of the things we, as a society, can spend $1.15 million on that would be more worthwhile than Ronnie Cedeno:
1 billion pieces of Double Bubble gum

Roughly 4 college scholarships
Food for most of Ethiopia (for a day)
Roughly 10 Aston Martin DB9′s
2.3 million Natty Lights
191,666 bars of bacon scented soap
Free Hot Dogs for every Cardinals fan for three games
Free Beer for every Cards fan for about an hour
1,151.5 Mac Book Airs
1.15 million $1 scratch off lotto tickets
1.15 million Wendy's Crispy Chicken Sandwhiches
1150 of these
21,495 Disney Repunzel Build-a Bears
27 Hot Tub Boats- Seriously, click on this link
A birthday gift for Lennay Kekua
144,654 pints of 5% ABV Wine Flavoured Ice Cream
.0014 Stealth B-2 bombers
A $1.15 million donation to Off The Bench to get rid of that annoying popup and maybe help us hire some real writers
Just food for thought. Cardinals fans, be very, very afraid. Ronnie Cedeno is the terrible.
You've been warned.
(Sorry, Ronnie. You know I love you.)
Stat of the Day:  Natty Light was Anheuser-Busch's first light beer.