Hitters Ready to Break Through In 2013
Updated: January 29, 2013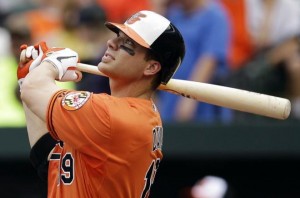 Last season saw guys like Edwin Encarnacion, Chase Headley, Andrew McCutchen, and Josh Reddick break through in a big way.  Each of those guys had spent some time in the Majors and were certainly adequate Major Leaguers.  Each of them elevated their play in 2012.  Each of them got MVP votes and none of them had had MVP votes before.  They really broke through in 2012.  The argument could be made that guys like Mike Trout, Bryce Harper, and Jason Heyward also broke through, but with each of them under the age of 23, I'd consider their excellent 2012 seasons more of a realization of potential than some big shift in career trajectory.  Acknowledging that predictions almost always look dumb when we go back to them, let's look at some guys who could have big 2013′s.
Chris Davis: Orioles DH Chris Davis was probably more famous in 2012 for his two scoreless innings in that wacky 17 inning game against the Boston Red Sox, but did you know he was one of the best hitters in the majors in September?  He hit .320 with 10 homers in the season's final month and was hitting absolute bullets all over the field.  His end of season stat line was an insanely quiet 33 bombs, .270 average and 85 RBIs. He seems like a likely candidate to carry over that success and help the Orioles repeat their flukey 2012.
Cameron Maybin: Part of an exercise like this is going out on a limb. Maybin has never hit double digit home runs and never hit above .264.  He's also never had an OBP higher than .326.  (For some perspective, Stephen Strasburg's OBP last year was .333).  However, I really believe in Maybin.  He's an elite level defender in Center Field and basically a lock to steal 30 bases.  If he can figure out how to do this more often, he'll be one of the more fun players to watch.  Seriously, a guy that can hit the ball 437 feet and steal 40 bases has to turn into a star eventually… right?
Allen Craig: Craig got MVP votes in 2012 and looked every bit as good as his .307 average and his 22 homers.  He's a young guy, but I think he's got a real chance to be a very good player for a long time.  He's always hit and he seems to have found a home at first base.  Allen Craig will be a household name by the end of the 2013 season.
Colby Rasmus:  I'm not sure whether Rasmus fits in the breakthrough group or in the finally-realizing-your-potential group, but either way the lambasted outfielder needs to step up.  Whether it's finally hanging up the phone when his dad calls or allowing Chad Mattola to finally work his magic (a la Edwin Encarnacion and Jose Bautista), Rasmus' time is now.  He's always had the physical tools and I'm expecting big things out of Colby in the Blue Jays new and improved lineup.
Ike Davis: Davis was as bad as you can be to start 2012.  He was hitting under .200 until June 27th–or for 76 games.  That's incredible.  Still, Davis wound up at .227, but managed to hit 32 homers.  Considering the powerful young guy hit .260 in 2010 and over .300 in 2011, I like the chances of him raising his average a bit.  I know Davis won't carry the lowly Mets to the playoffs, but if he boosts his BA into the .275 range, the Mets have found more than a really strong white guy: they'll have found a stud first baseman for the future.
Max Scherzer: Why not throw a pitcher into the mix? Scherzer managed the best K/9 of any qualifying starter in the second half of 2012.  He also managed the best K/9 of any qualifying starter over all of last season.  We know he's had the stuff and the durability (30 starts in each of the last four years), but he hasn't turned that into an elite level ERA.  Consider him the Andrew McCutchen of my group–everyone knows he's talented and he's put together good numbers without really making the jump.  Also, Scherzer's FIP in 2012 was 3.27.  An ERA like that in 2013 and he'll be in line for some Cy Young votes for the first time.