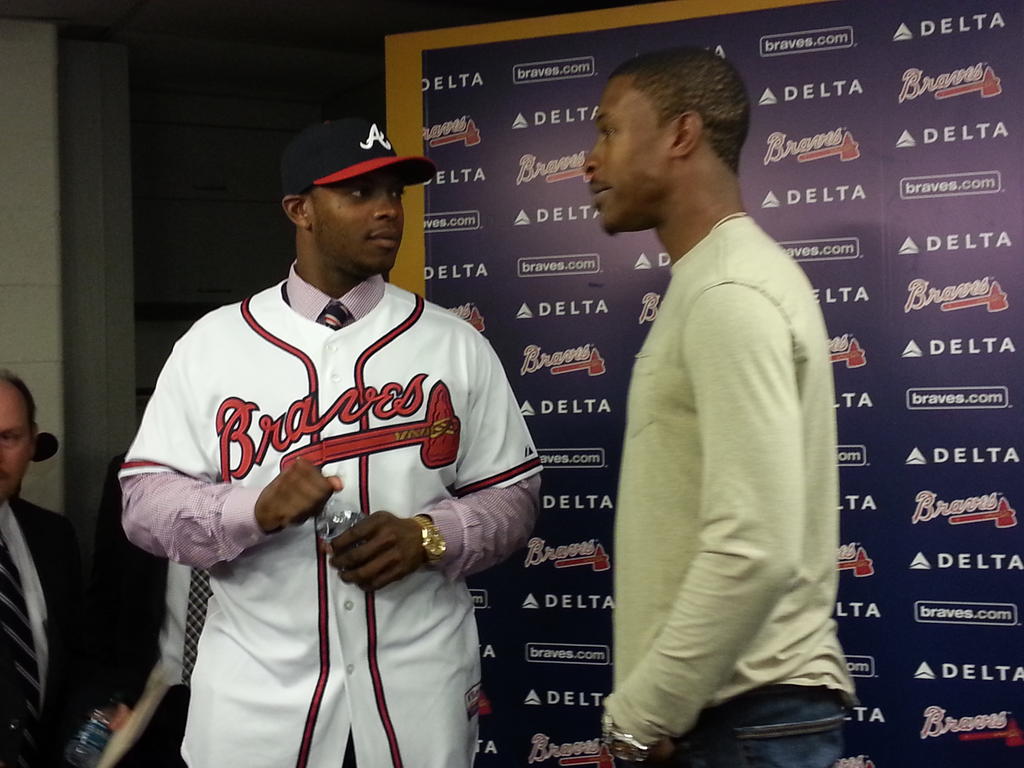 Justin Upton was introduced today by the Atlanta Braves.  I've been holding off my "It's three days later and I'm still excited about the Justin Upton Trade" post for two days now.  That boiled over today as I saw the Brothers Upton together in Atlanta.  Justin talked mostly about the opportunity to play with his brother B.J., and seems to be a genuinely nice guy.  I'm really looking forward to his time with the Braves.
But, lets be realistic: the point of the press conference today was to get our first shot at seeing JUpton in a Braves uniform. I'm a little uneasy about it as he looked funny with the shirt and tie underneath the Braves tomahawk.  If this is how young Upton normally wears his uniform (over his suit) I appreciate the Bond-ian swag with which he approaches his job, but question his general intelligence.  The quick maneuvers and cunning words that symbolize James Bond make him an ideal movie hero, but do not translate to Major League success.
To be a successful Major Leaguer, and I'm sure brother B.J. can attest, Justin needs to lose the suit to free up his range of motion.  I'm not entirely confident that that wasn't the issue last year in Arizona.  Or perhaps this is something that he's done his entire career and merely had a poorly tailored suit (or put on a few pounds) in 2012. Either way, I'm hopeful that there's a tailor in Atlanta capable of fashioning a suit that  allows for adequate range of motion, and looks better under a Braves' uniform than the one Upton donned today.
In all seriousness though, it's great to see Upton and Upton in Atlanta.  Fredi Gonzalez said today: "Really exciting. Spring training starts in about 12 days, and I wish it started tomorrow."  I know that I can't wait the next two weeks until pitchers and catchers report to their Grapefruit and Cactus league homes.
-Sean Morash
Video of the Day: