Spotlight On Troy Tulowitzki
Updated: February 2, 2013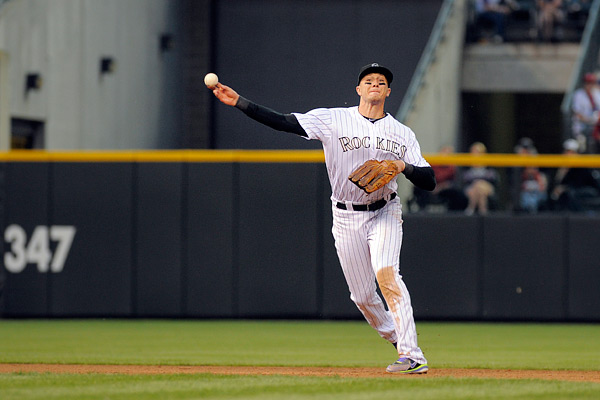 Troy Tulowitski has a tendency to get lost in the fray. He might be the best shortstop in baseball (especially since Hanley Ramirez is only barely still a shortstop) but he plays in Colorado, one of the most obscure baseball markets,  for a team that might be the worst in their division. Nevertheless, Tulo is healthy again after missing the vast majority of last season with a groin injury and he should be ready to regain his MVP-type form.
Last season was an anomaly for Tulo. He played in only 47 games before getting hurt, batting .287 with 8 homers and 2 stolen bases. Without their best player, the Rockies were awful, finishing the season 64-98 despite some creative pitching strategies. In 2013, they'll have a new manager.
In the three seasons prior to 2012, Tulo was one of the best players in the game at any position. He was top 10 in MVP voting in all three years (twice top 5) and had a WAR of 5.9 or better each time. He hit 32, 37, and 30 homers and was 20-20 (HR-SB) in 2009. In 2010 and 2011, he made his first 2 All-Star appearances and won Silver Slugger Awards as well as Gold Gloves.
After only 7 seasons, Tulowitski's 25.7 WAR ranks him higher than Paul Konerko (25.3), Michael Young (22.1), and Josh Hamilton (23.3). The only players in baseball who have played fewer season than Tulo and have a higher cumulative WAR are Joey Votto, Evan Longoria, and Ryan Braun.
Going forward, the 28 year old is aiming to find his find his stride and with it, his old level of production. If he can, he'll be looking at another top 10 MVP finish. It won't be easy though; the Rockies are terrible. They have 2 top notch player in Tulo and Carlos Gonzalez, but very little behind them. Further, they've never been able to figure out how to pitch in Coors Field (though that may be an unsolvable riddle) and they are currently mired in a division with a restocked Diamondbacks team, a refunded Dodgers team, and a Giants team looking to repeat. Even if Tulo and CarGo finish 1, 2 in the MVP voting and both have Trout-esqe seasons, the Rockies will still struggle to finish out of the basement in the NL West. (That might be a bit of an exaggeration but they still probably won't make the playoffs.)
Tulo is that sort of strange superstar. His numbers rival the best in the business but because he plays in a small market, and for a team with a small following and smaller win totals (since 2009 at least), he barely gets noticed. Plus, injury ended his season in late May, knocking him out of any baseball conversation for most of the summer. (Though CarGo didn't get mentioned much either and he went 20-20 for the third straight season.)
Tulo is nearing an age where superstars differentiate themselves from stars. Maturity is often a predictor of success in that transformation, and Tulo is well stocked in that department. In 2013, watch out for Troy. I have a feeling he'll come out with a vengeance.