Former Cy Young Winner Brandon Webb Retires at Age 33
Updated: February 4, 2013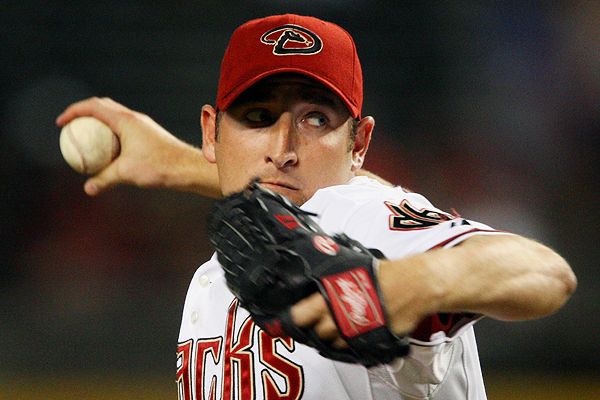 Brandon Webb's sinking fastball made him one of the more difficult pitchers to face in the middle part of the last decade.  He won a Cy Young in 2006 and finished second in the balloting in each of the two years to follow.  The natural sinking action on Webb's  fastball resulted in Major Leaguers breaking more than their fair share of lumber.  He retired today, and baseball bats everywhere took a sigh of relief.  Among the 136 pitchers with at least 1,000 innings since 2000 Webb had the highest ground-ball rate at 64.2 percent, and the lowest home run rate at 0.63 per nine innings.  He did some serious pitcher's pitching.  Relying on movement and command, Webb's career ERA was 3.27.  At age 29, Brandon Webb looked like he would dominate for a long time coming.  Then, injuries took their toll.
Following 5 straight seasons of 200+ innings (and 4 straight of 220+), Webb started on Opening Day 2009, but exited complaining of shoulder soreness. He never pitched in another Major League game.
In the four years that have followed, Webb has undergone a number of rotator cuff surgeries in a quest to regain the mound–and something of his Cy Young form.  Reports from 2011 pegged Webb, then with the Texas Rangers, up to 86 miles per hour, but he didn't crack the Big Leagues that year.  Instead hr posted an 0-2 record with a 9.75 ERA with Double-A Frisco.
This offseason, Webb was rumored to be on the comeback trailonce more and a number of teams were interested.  Sadly though, this latest attempt proved futile, and Brandon has opted to hang up the spikes.  He will be missed by the bloggers and fantasy obsessed amongst us, for whom stats like GB% are endlessley entertaining.
The tragic conclusion to Webb's injury-truncated career give further  evidence that shoulder injuries are not the same as elbow injuries for pitchers.  shoulder injuries have now ruined Webb's career, and most would agree that of Johan Santana, while  a host of guys (Smoltz, Carpenter, Strasburg, etc.)  and have found renewed success after much elbow trouble.
Enjoy your retirement Mr. Webb.  You were as good as there was in the game for a little while there.
Trade of the Day:  In March 2010, The Ballbusters (managed by Mr. Morash) successfully completed a trade with NeverLandRanch (managed by a Mr. Luongo) that amounted to Brandon Webb for Jason Bartlett.   I then traded Jason Bartlett and Nyger Morgan for Adam Dunn.  The Ballbusters won the regular season title by 16 games.