Eric Hosmer And Other Hitters Looking To Turn it Around In 2013
Updated: February 11, 2013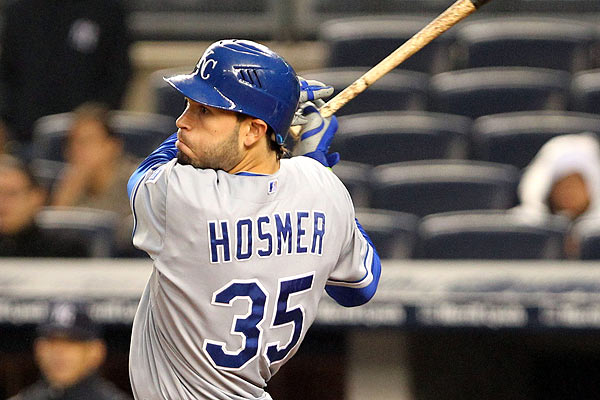 Kansas City Royal Eric Hosmer had all the makings of an absolute superstar at age 21.  He had one of the sweetest swings in the game, and the production to match.  In 2011, Hosmer posted a .293 average with 19 homers across 128 games.  He finished third in the Rookie of the Year voting and combined with Mike Moustakas to provide what looked like the cornerstones of the Royals organization for the foreseeable future. Then, 2012 arrived and proved much more difficult for Hosmer.  The general thinking is that he is fine and that his struggles are reminiscent of other Sophomore slumps.  I generally agree with that, but 2013 will be important for Hosmer to rebuild his reputation as a premier hitter at the Major League level.  He tops our list of hitters looking to turn it around.
1.  New Philadelphia Phillies third baseman Michael Young has always hit.  His 2230 hits and his six 200+ hit seasons are a testament to that.  Last year Michael Young looked old.  He wasn't happy abou this role as DH and his inconsistent position clearly affected him.  He managed a -1.4 WAR and struggled to catch up to any fastball.  This will need to be a renaissance year if Young wants to continue his march to 3000 hits.
2. Los Angeles Angel Peter Bourjos lost his job in 2012 to wunderkind Mike Trout.  He hit .220 in the 101 games in which he played and while his value lies largely in his defense, .220 doesn't do it.  The .270 that Bourjos hit as a rookie is more to the tune of what the Angels are looking for.  Flanked by Trout and newcomer Josh Hamilton, Bourjos doesn't need to provide the offense for the outfield.  Still, I'm sure I'm not the only one who would prefer to see Bourjos hit .270 in 2013.
3.  Alex Avila looked like one of the best catchers in the majors in 2011.  He hit .295 with 19 homers.  That's really good for a catcher.  .243 with 9 homers isn't.  With Victor Martinez coming back from ACL injury, he could look to take some of the reps at catcher from Avila as the season progresses.  If he is 2011 Alex Avila (or even 2010) instead of 2012, the Tigers will run away with the AL Central.
4. Now, .280 with 17 homers and 18 steals is not exactly a bad season.  However, new Atlanta Brave Justin Upton is looking to repeat his 2011.  That year, Upton finished 4th in the MVP voting and at age 23 was the envy of other organizations.  In 2013, Upton looks to continue his trend of playing well/getting MVP votes in odd years.  Also, playing with his brother and without the stress of trade rumors could return Upton to national prominence.
5.  The 2011 Boston Red Sox.  Dustin Pedroia, Jacoby Ellsbury, Kevin Youkilis and Adrian Gonzalez all had bad 2012′s.  How much was that step back associated to with the dysfunction of the Red Sox clubhouse?  Is Kevin Youkilis' body betraying him? Same for Pedroia? Are the new homes good for the two guys who got out of Bean Town?  Is Jacoby Ellsbury really a guy who can hit .320 with 40ish steals and 30 bombs like in 2011?
Stat of the Day: Andruw Jones lead the league in home runs in 2005.