Michael Bourn A Good Value Sign For the Cleveland Indians
Updated: February 12, 2013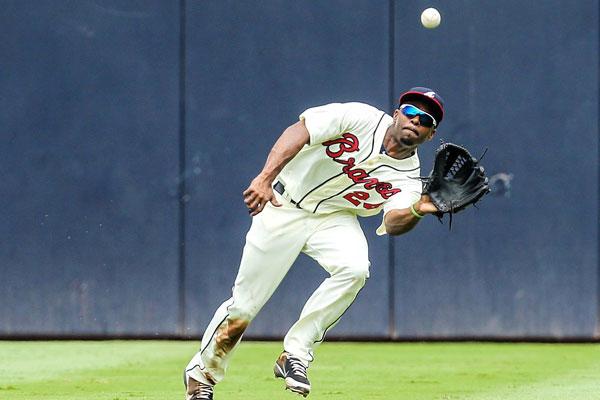 The Cleveland Indians have successfully netted yet another outfielder, this time Center Fielder Michael Bourn.  Bourn agreed to a contract yesterday with the Indians that promises him $48 Million over four years.  He also has a vesting 5th year that could bring the total value to $60 Million over 5 years should he reach 550 plate appearances in 2016. I really like the deal for a number of reasons.  Principally, with free agency salaries set to explode next offseason because of increased revenue sharing (to the order of $25 Million annually per team), the deal will look like a bargain going forward.  I also like the deal because of its length.  Bourn's primary value is in his defense and base running  not his 22 career homers, or 100+ strikeouts annually.  He's really the only true speedy leadoff-type/defensively-minded center fielder in the game right now.
Consider that the $12 Million Annual Average Value (AAV) is significantly less than the $20,285,714 AAV of Carl Crawford's contract.  While both players are valuable because of their speed and defense, Bourn's contract is for fewer years at a lower AAV and will take him through his age 33 season.  Crawford's contract takes him through his age 35 season.
I know Indians fans don't want to hear Bourn's contract compared to Crawford's given the latter's recent injury woes, but I'm saying that the Bourn deal is profoundly better.
Meanwhile, the Indians have been on a bit of a shopping spree of late.  This past weekend, Clevland also signed veteran Jason Giambi to a Minor League contract–an avenue they also used to net players such as Scott Kazmir and Matt Capps.  The Tribe also has an agreement in place on a Minor League deal for pitcher Daisuke Matsuzaka. Plus, they agreed to pay Nick Swisher some $56 Million over the next four years.
Throw in the deal they made to get Trevor Bauer and Drew Stubbs to Cleveland and the Indians promise to be fielding a different roster in 2013.
ESPN's Keith Law contends that the Indiand will not compete in 2013, but have put the assets together for the latter three quarters of the Bourn/Swisher deals.  That theory makes sense.  The Indians bought in a bit too sharply in the Ubaldo Jimenez deal as he's now a league average pitcher on a good day.  With the Tigers in the same division, and having improved on their World Series team from last year, I'm not sure the Indians are ready to compete in 2013 even with the incremental advantage afforded by Bourn and Swisher.  That said, if they find themselves with a few guys at the trade deadline capable of returning a semi-large haul of prospects, the Indians have the ability to, as the saying goes, trade from strength.
Bottom line is that they signed Bourn to a good deal even if they didn't really need him.  Following that strategy–buying in on guys who are below standard value–is a good idea.  I like the deal and I like the Indians for trying.  Imagine if Justin Masterson regains his form, as discussed here, and Daisuke Matsuzaka is good again, and Ubaldo recaptures that magic.  Or Trevor Bauer is as good as the prospect guys thought he was.  That could be a really fun Cleveland Indians ballclub.
If worst comes to worst, the 2013 trade deadline will be a boon for an Indians' club laden with available talent.  Either way, 2013 in Clevland projects to be way better than 2000-2012 (except 2007).
Stat of the Day: Ubaldo Jimenez was 15-1 with a 2.20 ERA in the first half of 2010.