The Mets Should Add Brennan Boesch
Updated: February 17, 2013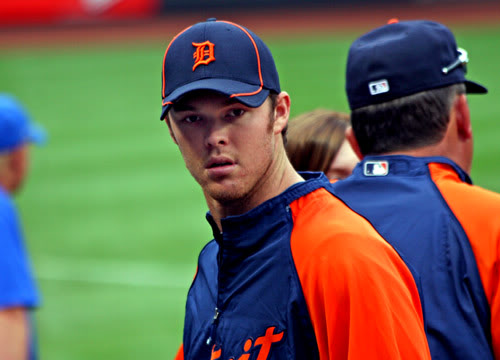 We've officially started spring training so all is right with the world. Well, unless your the Mets and you've looked at your outfield depth chart lately. Right now, the three starting outfielders in Queens are Lucas Duda, Kirk Nieuwenhuis (that's the only time I'm going to write that during the post because it is such a pain to spell, heads up) and Mike Baxter. None of them have any business as starters in the major leagues and there's no team in baseball, no matter how good the rest of the team is, that could compete with those three guys as their everyday outfield.
Fortunately, for the Mets (I guess), competing this year isn't really in the cards as division rivals Washington and Atlanta might be the two best teams in the NL and Philadelphia isn't bad either. The Mets are in a building mode, 2013 was never supposed to be their year anyway. They've got David Wright locked down, Ike Davis stationed at first and a top level catcher to go along with a deep and talented young pitching staff on the way. The Mets' time is in the future and they know it.
For now though, they should be focused on winning as much as possible to make as much money as they can for future use in building the winner. (Also because winning is intrinsically desirable, I'm just caught up on the econ of it from my last post.) This means improving their outfield and, if they're going to do that, they might as well add a piece that can help them going forward as well as this season.
Enter Brennan Boesch. Boesch is 27 and has a ton of potential. He was supposed to have a huge year batting second in front of Miguel Cabrera and Prince Fielder last season but he struggled before getting hurt for the AL Champ Detroit Tigers. Though he was originally penciled in as a starter, the acquisition of Torii Hunter and emergence of Avisail Garcia have made Boesch expendable.
Boesch has yet to live up to his full potential, he hit only .240 last year with 12 homers but I think a switch to a new league and new team could really help him. He has more experience in right field but could play left as well and I would start him over Baxter. At the very least, Boesch could bring a consistency and, believe it or not, a veteran presence to the NYM outfield.
This year, he could add a little bit of pop and some name recognition to the Mets and while he doesn't turn their outfield into a powerhouse, he could be easily acquired and would make things better. Going forward, he is cheap option (about $2million this season) who can start for now and be a quality 4th outfielder if the Mets ever improve enough to go for it all behind their pitching.
Boesch is a solid player who could benefit from some new coaches and a change of scenery. The Mets would improve with him in a corner outfield spot. He is a cheap, respectable everyday starter that would make them better today and tomorrow and is a realistic get. Boesch needs to up his homer total to really become a valuable player (as well as his average ideally) but he is fully capable of improving as a player at this stage in his career and is already better than any of the three guys the Metropolitans currently have.