A Darin In The Ruf: Remembering Baseball Cards
Updated: February 19, 2013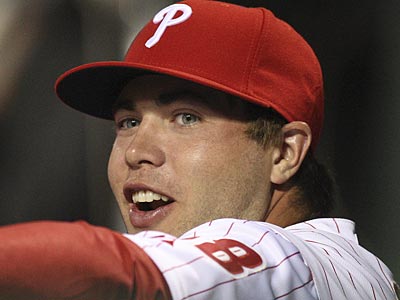 Darin Ruf is a Philadelphia Phillie. He is currently listed at the backup 1st baseman and left fielder on the official team depth chart. He stands a hefty 6'3" 220 lbs and throws and bats right handed. In twelve games last year with the big club he hit .333 got on base at .351 and slugged .727; that's good for an OPS of 1.079. And he hit three home runs in 37 at bats.
Why do I know this? Well, it's complicated. Is it because I write for a baseball blog? No. Is it because secretly I am a Phillies fan? Hell no. Is it because I know Ruf personally? Incorrect. Is it because of that goofy smile? No. Well, maybe. It's growing on me.
Really though, it is because today I did something I haven't done in many years: I went to a card shop and bought a pack of baseball cards.
I live in Seattle, pretty close to downtown, and the closest card store I found was almost outside of the city limits. When I was a kid there were card stores everywhere. I remember a neighborhood joint that my brother and I would go to pretty regularly. The guys who ran the store didn't quite know us by name, but they knew our faces. Today, cards stores are few and far between. An exhaustive search (on Google) revealed two: one down at the famous Pike Place market which turned out to be a full on collectable store, and the one I went to almost out of the city.
When I walked in, I was at once speechless. I didn't know where to start. The walls were full of packs from the last 30 years. They had football, baseball, basketball, hockey, magic, pokemon, yu-gi-oh, battlestar gallactica, and things I'd never even heard of. You could buy an unopened pack of 1989 Bowman baseball cards still with the gum inside (of course I bought one) and snag a holographic first edition Pikachu card at the same time (I almost did this). I looked around for a good fifteen minutes while the owner divided his time–fairly equally–between politely asking  if I needed any help, and greeting the three other people total that came into the store. Two were buying magic cards, and one was talking about older baseball cards and eventually bought a new pack. It was incredible, this store had basically every pack of cards you could ever want (except for a first edition pokemon pack which apparently can go for millions hundreds of dollars online).
After much perusing, I finally succumbed and asked for help buying a brand new baseball pack. The owner told me I could either buy a 2013 Topps pack or a 2013 Topps jumbo pack, which had better odds of getting a game token. I had to ask what a game token was. Apparently it means a hologram or game-used paraphernalia card. I decided to get crazy and go with the jumbo pack and handed over the $10. The owener expectantly presented the case to me. Of course I had forgotten! You always get to pick your own pack out of the box! I moved a couple to the side, listened, and selected the pack that spoke to me most.
Just like I had 20 years ago, I tore open my packs right there in the store, first the '89 Bowman. The first face looking up at me was none other than Big Mac, Mark McGwire. I knew it was going to be a lucky day for me. Other big names followed: David Cone, Cal Ripken Sr., Robin Yount, and Dave Valle (a Mariner, in case you were wondering). I got one rookie card. Steve Avery, who went on to play 11 seasons, was an All-Star once and finished 6th in the Cy Young voting one year. He was mainly a Brave. Also in the deck was the aforementioned piece of gum and a Willie Mays replica/sweepstakes card. Had I–in 1989–sent it in to Bowman with my name and address, I would've had a chance to win the real thing.
The new pack promised to be a more exciting venture. I would know most of the players and there was a possibility of a rookie who would could be the next Mike Trout. The first player in this deck was R.A. Dickey, another good sign. I continued to leaf through and saw some good names and some great names: Albert Pujols, Andrew McCutchen, Derek Lowe, Johnathan Broxton, Kyle Seager (wearing the awesome teal Mariner's alternate jersey), Kevin Youklis, Max Scherzer, Ryan Braun, Curtis Granderson, J.J. Putz, Chien-Ming Wang, Rickie Weeks, Jered Weaver, Dan Uggla, Adam Jones, Yovani Gallardo, Denard Span, Shin-Soo Choo, and some people I'd never heard of. Somewhere in the middle however, I got Darin Ruf and a Game Token card. I was surprised by who I saw with part of a game used bat: Albert Belle. It threw me off. Why would Albert Belle be in a 2013 pack of baseball cards? I'm still not sure, but the card has a piece of his bat from the '95 season when he became the first player in the 50 home run/50 doubles club. (Upon further review, "the relic contained on this card is not from any specific game, event, or season." However, still pretty cool.) The card sold online recently for $6. Pretty good for a modern baseball card.
I, however, will not be selling my cards. I will be keeping my Albert Belle game token card, and my rookie class Darin Ruf card. Here's hoping Ruf is the next Babe Ruth, and Belle eventually makes the hall of fame.
I had a great time going to the card store and being a kid again. I would recommend it to all of our readers. After all, there are only a few left, and eBay just isn't the same.
-David Ringold
@dhringold