Should The Braves Go After Kyle Lohse?
Updated: February 19, 2013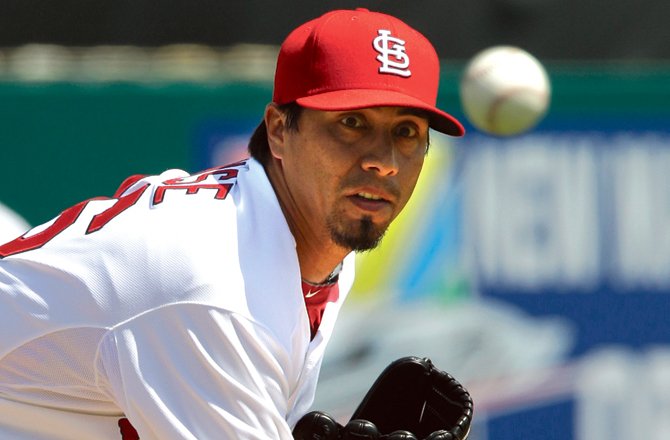 The guy who started on Opening Day for the defending World Series Champion St. Louis Cardinals last year, Kyle Lohse, is still without a job.  Lohse is coming off of his best statistical season.  In 2012, he went 16-3 with a 2.86 ERA and picked up some Cy Young votes along the way.  He probably didn't actually pitch quite that well as his 3.51 FIP and career low in BABIP will attest, but the fact remains that over the past two years Mr. Lohse is getting much better results than he did earlier in his career. Lohse is represented by Scott Boras and that helps to explain why he has not yet signed, but as Spring Training starts in ernest on Friday when the Braves play the Tigers, Kyle Lohse will need a job soon.  Should the Braves offer Lohse a deal?
Max proposed that question to me a few days ago and my initial reaction was, "No."  The Braves have traded from their wealth of starters over the past calendar year, seeing Arodys Vizcaino, Tommy Hanson, and Randall Delgado all depart via trade.  As the pitching situation stands now, Julio Teheran is expected to be the fifth starter.  From Braves beat writer David O'brien:
The No. 5 job is Teheran's to lose, and they don't expect him to lose it.   Gonzalez said, "It's not [just] Opening Day, it's the way the rotation sets up for the next three days. If you go, for example, righty-righty, now you've got lefty-lefty, if you're assuming that your fifth starter is [Julio] Teheran, who's a right-hander."
So there you have it.  Manager Fredi Gonzalez is already making plans for Teheran to fill that role.  It makes absolute sense.  Teheran has been in AAA each of the past two years and at age 22 has drawn comparisons to Pedro Martinez.  There's only one problem: his 5.08 ERA last year in the minors.  This, after a year in which he dominated hitters to the tune of a 2.55 ERA.  Am I the only one who is a bit concerned about the 5.08 ERA?  There's simply no way.
By most calculations, the Braves have about $10 Million to spend this year.  The Braves are probably the second best team in the National League as currently constructed, but (and remember I'm a huge Braves fan) are clearly behind the Nationals in terms of their rotation.  Enter Kyle Lohse. It's a good move, should Lohse be available for about $10 Million annually.  Lohse essentially makes Paul Maholm the fifth starter and greatly reduces the urgency of Brandon Beachy's rehab for his surgically repaired elbow.
The only problem I really see in bringing in Kyle Lohse is the message that it sends to Julio Teheran.  The blow to his confidence is not something that should be dismissed.  However, the Braves have been quite brazen in their treatment of pitchers recently.  Remember the frustration displayed by Kenshin Kawakami about his demotion?  Or how Jair Jurrjens struggled mightily all year… in AAA? Or that they committed roughly 12% of the 2012 payroll to pay Derek Lowe to pitch for the Indians?  The Braves have proven that they are not afraid to make the difficult decisions that are best for the team.
What if Teheran displays the same repertoire that got him a 5+ ERA in AAA next week, and Kyle Lohse' asking price drops to something like 30 million over three years.  The Braves would clearly call.  Such a signing would allow the Braves to let Paul Maholm walk at the end of this season when he's a free agent.  Also, Tim Hudson (37) is a free agent after the year. A decision on those guys will probably depend on their 2013 performance, but the point remains that there could be some changing of the guard going forward.
Still, I'm not sure that Lohse is the component that pushes the Braves past the Nationals.  With $10 Million to spend, I'd be happy to see the Braves at least call Boras and find out what they can about acquiring the proven starter rather than relying on the young guy.  Especially in a season and playoff format that stresses winning the division over the Wild Card, each additional game that that $10 Million is wasted in the bank promises a slightly less talented roster and a greater chance of another Wild Card game.
I don't want another Wild Card game.  If Julio Teheran is no bueno (or just asi asi) at the beginning of Spring Training, the Braves should go after Kyle Lohse.
Stat of the Day:  The Mets highest paid outfielders this year are Jason Bay and Bobby Bonilla. (…Yes)