Positive Signs For Houston In 2013: They Might Actually Be Good
Updated: February 21, 2013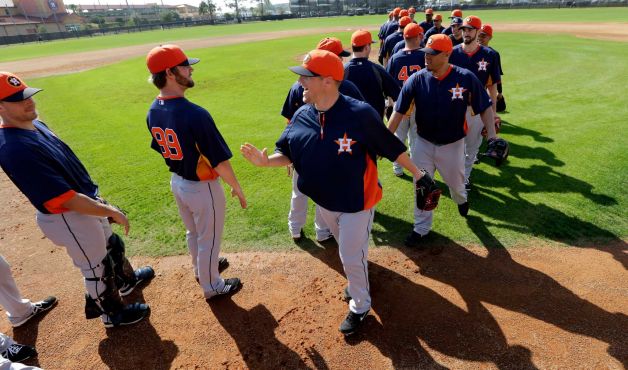 The 2012 Houston Astros were unwatchable at times.  Their ensemble of utterly boring players boasted less talent then the AAA rosters of many of their fellow Major League franchises.  That, and the fact that they played their games in the most boring division in baseball combined for a Perfect Storm of boredom; a boredom heaven.  Watching the 2012 Astros was like sitting through an hour of Intro to Women's Studies at Vassar College.  (I'm qualified make that joke because I'm probably the only person to have accomplished both horrific feats and lived to tell the tale.)  Still, something inside me thinks that there's some way this new Astros team, invigorated by new uniforms and a new division, could stumble upon some fairy dust and pull together a respectable season.
Before you dismiss this blog and our site entirely, hear me out.
How many proponants did the Oakland A's have heading into last year?  Who believed in the Orioles?  Hint: not us.  What's the point of bringing up those two fairy tale seasons–seasons that left their respective fan bases rejuvenated and sent the stock prices soaring for hotels around their Spring Training facilites?  The point, my friends, is that it's impossible to predict the fairy tale.  There's no real point in trying, but we keep doing it.  (And when we're correct, we'll let you know). So here we go: The Houston Astros Will Not Suck in 2013.
I'm calling it now: the stars align and the Astros achieve mediocrity.
Lest you assume my analysis is based entirely on astrology (or that I'm the next coming of Sylvia Browne), I've got some actual numbers heading your way.  In September of last year, the Astros were a respectable 13-14, and six of those losses came at the hands of the playoff-motivated Cardinals.  One thing I've found in my blogging career is that some of the surprise stories of the new year are really carried over from the previous September.  Consider the Athletics were 14-12 in the September before their "surprise season." The Orioles were 15-13 in that 2011′s final month.
I went back and looked at all the other teams who finished in the bottom third of the season standings and examined how they did in September.  Would you believe that the Astros had the best record among them?  You should.  You should also remember that the Red Sox finished with the 25th best record in the Majors, just because.  Cumulatively, these 11 teams combined for a 102-164 record in September with the Astros buoying the likes of the Cubs, Marlins, and Red Sox.
When we try to predict hitters poised to figure things out in a new season, we often cite their previous September, or at least their second half.  We explain that they "figured something out,", that they've "turned a corner."  Why can't the same be said for teams?
I realize that I'm applying a semi-faulty argument to a team that boasts a payroll with seven digits.  But they're returning largely the same team.  The guys they lost are Jed Lowrie, Jordan Schafer, and Travis Buck.  Recall that Jed Lowrie played in just 14 games in September and hit .200/.267/.345.  Schafer was allowed to leave on waivers (for nothing) and mustered 0 hits in The Good Month.  Travis Buck was confused for John Buck for just a moment and should not be considered among the "Losses" for the team.  Wilton Lopez, their closer by the end of the year was traded to the Rockies, so I guess that's a "Loss" but I'm not concerned about a mediocre team's closer situation.
With largely the same ballclub that competed in September to the tune of a 13-14 record, I expect that the 2013 Houston Astros will not suck.  I'm not going to go so far as to say they will be good (they won't be), but "mediocre" is a better grade than any other pundit is willing to hand out.  One might go as far as to call it a Bold Prediction.
Stat of the Day: Curtis Granderson is out 10 weeks after a HBP broke his forearm in the first Grapefruit League AB of the year.