Live Running Diary of the Nationals-Mets Game
Updated: February 23, 2013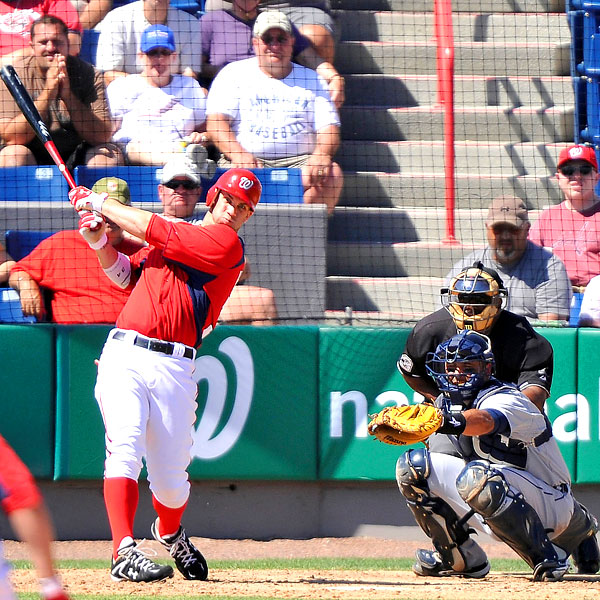 Baseball! Baseballbaseballbaseball! Its back! Today brings us the first televised major league (sort of) baseball game of 2013 and I'm breaking out the critically-acclaimed live running diary to bring it to you Off The Bench style.
Today's action features the Nationals and the Mets in a matchup of Grapefruit League titians. I just woke up from my post-8am baseball practice nap, I'm showered and ready to go. It's times like these I'm thankful Sean and I shell out the extra couple bucks a month to get MLB Network. To Florida!
12:06- Turns out in the New York Area SNY is carrying the game and the MLB network is showing one of its terrible filler shows as usual. Forget that shoutout I gave them.
12:06- Shaun Marcum to start for the Mets today and then top prospect Zach Wheeler is going second. This is going to be fun. I wrote something on Marcum earlier this winter, he's solid and a nice addition for the Mets.
12:10- First pitch! Marcum against Denard Span. The Nats lineup looks pretty good, no Werth or Zimmerman but we get Bryce Harper.
1211- Span grounds out to Ike Davis, 1 away. Span is going to be a big piece for Washington this season. He'll play center and hit leadoff filling 2 huge holes for the NL's best team.
12:12- They just flashed the Mets' starting lineup, can't tell if those are regulars or A level minor leaguers. The Mets are bad.
12:12- Bryce Harper just mashed the first pitch foul. Wow. He looks good. Just roped a rocket out to right for a single. It was a missile. He's impressive.
12:14- Tyler Moore flies out to Marlon Byrd, inning over. Strasburg time.
12:15- Stephen Strasburg is starting this game for the Nats. It seems like every time I live blog, Strasburg is on the mound, that's fine by me though, he's very fun to watch and can be dominant . Let's see how he does in less than midseason form.
12:17- Mets starting lineup on the screen now. Oh boy. Other than Wright and Davis, I'm not sure there is one other big league starter there.
12:17- There is no radar gun on this broadcast! What! How an I supposed to see how hard Stras' changeup is?
12:18- Announcer: "Of all the candidates the Mets have in the outfield…" Me: "Ha!"
12:19- Stras doesn't have his pinpoint control today. Looks like this game is being played in February. Base hit for Kirk Nieuwhenblahblahhoweveryouspellthat
12:20- Reuben Tejada hitting now. I think he is a very interesting player. No power, no run production, decent average, some speed (not great), great glove. He's only 23. I'm not sure what to make of him just yet.
12:21- Why don't Mets have Spring Training uniforms? Did Bernie Madoff take them?
12:22- Strasburg is all over the place over his first 11 pitches. Still no radar so I can't talk about his velo.
12:23- Reuben Tejada just hit a homer to left center. It was bit of a bomb. WOW. 3-2 fastball right down the middle. Good start for the Mets, not so much for Stephen Strasburg.
12:24- David Wright grounds out. Ike Davis coming up. Let's see how he looks.
12:25- Ike Davis hit 20 bombs in the second half last season? He hit 32 over the whole year? Impressive.
12:26- Davis hits a rocket to first but its snagged, 2 away.
12:26- Fact: Marlon Byrd had 9 RBIs last season. That's 41 fewer than the number of games he was suspended for in 2012.
12:27-  Strasburg has now gone to 3 full counts this inning. Maybe he'll only throw one today.
12:28- Byrd just double off the right center wall. Opposite field strike, third Mets hit of the inning.
12:29- Apparently, Lucas Duda has already won the starting job for the Mets. For how many other teams would Duda be the unquestioned starter at the start of Spring Training? I'm saying Houston and that's it.
12:30- Strasburg k's Duda on his 31st pitch of the inning. We're through 1.
12:34- Ian Desmond has a dirty mustache. And a single.
12:35- Chris Marrero is hitting for the Nats. AAA first basemen. I say that because I'm betting you didn't know who that was.
12:36- Marrero just rocked a double off the wall in left. Impressive. I bet he could start for the Astros. Maybe the Mets, too.
12:38- Chris Snyder just hit a chest high hanging breaking ball over the left field fence for a 2 run homer. If he hadn't hit that out, he shouldn't be in the majors.
12:39- Micah Owings, the former pitcher, it trying to make the Nats as a first basemen this year. His is a very interesting story, something we might wright about in the future in more depth (hint hint).
12:41- Announcers are currently discussing Keith Hernandez's mustache. Must be Spring Training.
12:44- Fact: John Buck hit .192 last season.
12:45- Best thing the Mets' announcers can say about Buck: He's friends with Shaun Marcum. Not kidding.
1248- Strasburg throws a much better inning, 1-2-3 and the Mets are done in the second.
12:50- Debut of Zach Wheeler. If you don't know, Wheeler is one of baseball's top pitching prospects. The Mets got him from San Francisco for Carlos Beltran. He's the future, lets see what he's got.
12:51- First pitch, 94 mph.
12:51- Fourth pitch was 96….. Now they have the radar gun.
12:52- Wheeler walks Lombardozzi to start the inning.
12:53- 96 mph to the backstop. Right by John Buck. He's overthrowing a bit.
12:53- The matchup right now is Wheeler vs Harper. We could be seeing this for a decade to come and maybe in a few playoffs.
12:54- 79 mph curveball. Filthy. I didn't know he could throw 96 and do that.
12:56- 97 mph fastball just thrown right by Tyler Moore. Wheeler is starting to settle down.
12:57- Wheeler k's Moore with a guy on third. He looks really good all of the sudden.
12:58- First 3 pitches to Chad Tracey: 97 mph fastball then 88 mph change then 97 mph fastball. All filthy. Tracey had no chance, strike three. Wheeler's first inning is over and he looked really really good. He's got serious velocity, a sharp curve and good change.
1:01- Craig Stammen on to pitch for Washington but here's the thing, you see, it's Spring Training for me too and I'm not in midseason running diary form. I've been at this for an hour and I'm up over 1,000 words so I'm gonna take myself out of the game and hit the showers so to speak. Maybe next week I'll live blog for 6 or 7 innings so I'm 9 innings ready on Opening Day. We'll see.