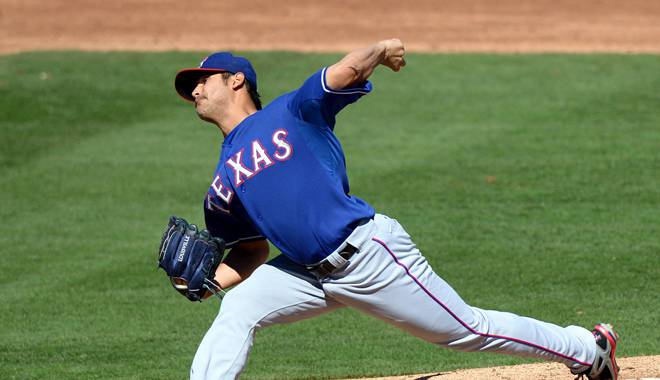 Texas Ranger's pitching prospect Martin Perez was injured yesterday, struck by a line drive comebacker.  The injury is significant in that Perez was expected by many to be the No. 5 starter in Texas.  Much ado has been made over this fractured left ulna; the problem is that the Perez injury is really not that big of a deal.  The truth is that while Perez's repertoire and age have garnered him top prospect attention, he's met with mixed results.  He had a 4.25 ERA in AAA last year, and a 4.33 ERA across AA and AAA in 2011.  He was young for those leagues so he has managed to maintain his prospect status, but to say he is some transcendent talent is inaccurate.  Further, Colby Lewis is expected back sometime in May and will certainly be reclaiming a rotation spot.
Whoever won the fifth starter job out of spring training was–barring lightning, bottles, etc.–merely a stopgap for the few weeks pre-Colby Lewis's return.  Perez was battling with Robbie Ross and Justin Grimm for that fifth starter spot.  Now, Perez was likely going to win that spot over Robbie Ross and Justin Grimm, but that is more a factor of Ross' ability to pitch out of the bullpen (where he was very effective last year, more on that in a minute) and Grimm's relative inexperience.
With Perez injured, some pundits have suggested that the Rangers go after Kyle Lohse.  That kneejerk reaction couldn't be more incorrect.
Perez will be back in late-ish April and Lewis sometime after that so the Rangers need something like four starts from some new guy.  They need a four-starts kind of guy.  Kyle Lohse doesn't fit that mold.  The Rangers seem content with their stable of starting pitchers and surely have someone qualified for the assignment.  An injury of to their potential fifth starter doesn't change the equation–if it did, they would have signed Kyle Lohse by now.
As for what the Rangers do with those few starts they now need to cover before Colby Lewis comes back, the answer is pretty obvious.  Robbie Ross.  Ross was 6-0 with a 2.22 ERA in 58 appearances last year.  The 23 year old left hander mostly started in the minors to the tune of a 2.88 cumulative ERA.  He's really good and is one of those guys who just knows how to pitch.  The injury to Perez allows Ross the opportunity to start.  If you're worried that Ross might wear down as a starter with little experience professionally in that role, you're wrong.  Ross threw 160+ innings in 2011 and would likely be good to go for 30+ starts this year.
I'm a big Robbie Ross fan and really look forward to him eventually getting the chance to start in the Majors.
As for what happens when Colby Lewis gets back, and assuming Ross is pitching well, your guess is as good as mine. The  Rangers rotation currently looks like this:
Yu Darvish

Matt Harrison
Alexei Ogando
Derek Holland
Robbie Ross
Signing Kyle Lohse while expecting Colby Lewis back, makes no sense.  Are they ready to give up on Derek Holland? Does Alexei Ogando really not get the opportunity to start? I don't see it.  Martin Perez' injury really just guarantees Robbie Ross those four starts in the interim.  Big deal for him; no big deal for the Rangers.
-Sean Morash
Stat of the Day: Over his last two starts, Mark Appel (the guy who didn't sign last year and is expected to be the No. 1 pick in this summer's amateur draft) has thrown 18 innings with a strikeout-to-walk ratio of 27 to 2.