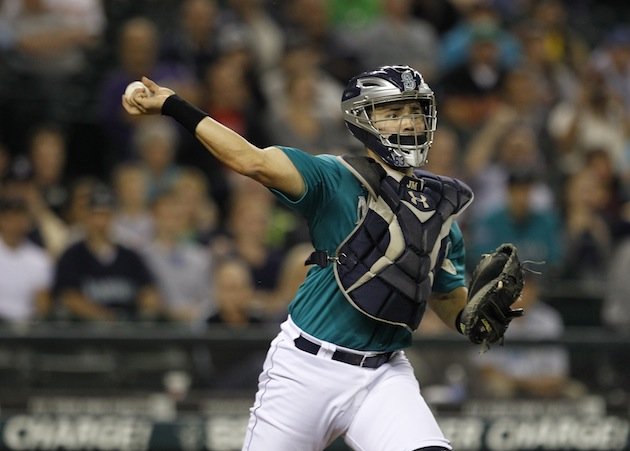 Last season marked another year of disappointment for the Seattle Mariners, and fourth in the AL West with a 75-87 record does not breed confidence in the future. There was little to be proud of last season beyond Felix Hernandez and occasional flutters from the cast of young position players speckling the lineup. Ichiro left for New York, not a single player hit above .280, and only one player had 20 home runs. Looking to the future–a common theme in Seattle–there are indeed some rays of hope, both on the Major League roster and in the developmental ranks. The Mariners have a chance at mediocrity if Kyle Seager, Dustin Ackley, and Jesus Montero start hitting to their projected potentials, and a few pitchers from the group of Taijuan Walker, Danny Hultzen, and James Paxton make their way up to the majors. To be frank, fans face a roster of hither unto under-performing youngsters interspersed with declining elder statesmen, leaving the Mariners' season looking very long indeed.
Projected Lineup:
Dustin Ackley 2b

Michael Saunders Cf

Kendrys Morales Dh
Michael Morse Lf
Raul Ibanez Rf
Kyle Seager 3b
Jesus Montero C
Justin Smoak 1b
Brendan Ryan Ss
Projected Rotation:
Felix Hernandez

Hisashi Iwakuma
Joe Saunders
Erasmo Ramirez
Blake Beavan
Strengths:
Felix Hernandez(!!!): The Mariners signed him to the richest pitching contract in the history of baseball this offseason and he is locked up for a good long time. Felix is set to battle Justin Verlander for AL pitching supremacy (and rights to the richest contract) and Seattle will be fun to watch at least every fifth day.
Age and Potential: The Mariners have good minor league depth, and some young talent already at the Big League level. Kyle Seager put up 20 home runs last year while playing very good defense, and Michael Saunders appeared to develop a power stroke as well, hitting 19 of his own. According to everyone, Jesus Montero is good–maybe this is the year he proves it? The Mariners have been been putting up power numbers this spring, hitting more home runs than any other team. The potential is there, as they've streaked off to a 10-1 Cactus League record so far (though we know how much that means).
Flexibility: If the Major Leaguers fail to produce, the Mariners have many young talents waiting in the minors who should be able to inspire some confidence in Mariners fans. They also have a lot of combinations in the outfield, at first base, and DH positions. Other bits of flexibility are structural: the fences are moving in and the scoreboard is blowing up (it will be baseball's largest). There will be a new treat in the outfield as well: an Edgar Martinez-inspired restaurant should draw a few more fans.
Weaknesses:
Lineup: The Mariners are still generally bad at hitting. They brought in Kendrys Morales and Michael Morse as their big offseason moves but still lack any one player who puts fear into opposing pitchers. The lineup has potential to be good, but considering the Mariners need three or four young talents to make big strides for that to happen, the expectations will be low again.
Outfield Defense: The Mariners will be playing with a terrible defensive outfield. Michael Saunders is a good center fielder, but ther dropoff thereafter is immase. Morse is a first baseman, Raul Ibanez is 40+ (age, not home runs) and there is a real possibility that Jason Bay will see time. It makes you think that perhaps moving the fences was actually more of a defensive move…
Rest of the Rotation: Beyond Felix, the rotation isn't much to write home about. Iwakuma and Saunders could be solid, but the bottom of the rotation will be shaky at best. The Mariners will need one of their young arms to come up sometime during the season if they hope to finish the rotation off with any semblance of quality.
Storylines:
Will Felix live up to his contract?
Will any of the young talent produce at a quality they were once thought to possess?
How many of the minor league prospects will arrive in Seattle before the All-Star break?
With the addition of the biggest screen in all of baseball will the hydroplane races suffer?
Prediction:
78- 84, Fourth Place, AL West. The Mariners will not finish last in the AL West for the first time in a few years. Thanks Astros!
Bold Predictions:
Four Mariners will hit 20 home runs: Kendrys Morales, Kyle Seager, Raul Ibanez, and Jesus Montero.

By the end of the season, two out of the Three Heads of Cerberus (Walker, Hultzen, Paxton) will be starting pitchers for the Mariners.
Felix Hernandez will finish in the top two for Cy Young voting.
By the trade deadline, the Mariners will have made three moves to bring players in, including trading away their closer who came out of nowhere to be very effective.
Mariners fans will be treated to the most diverse food available in baseball, including sushi, Thai, local microbrews on tap, organic pulled pork and burgers, sweet potato fries, and a Mezcal bar–and I will still only buy garlic fries at the stadium.
-David Ringold
@dhringold