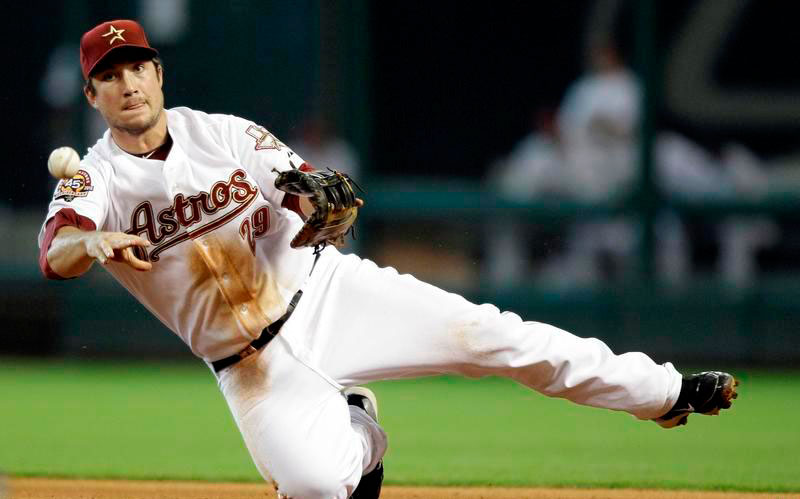 The Houston Astros' 2012 was one to forget. As was their 2011. So shall be their 2013. On the bright side, Astros fans get to see a new set of opponents kick their team's butt.  Plus, there's at least some intrigue in seeing that orange-ish uniform once or twice.
Projected Lineup:
Jose Altuve (2B)

Tyler Greene (SS)
Brett Wallace (1B)
Carlos Pena (DH)
Chris Carter (LF)
Justin Maxwell (CF)
Jason Castro (C)
Fernando Martinez (RF)
Matt Dominguez (3B)
The Rotation:
Bud Norris

Lucas Harrell
Jordan Lyles
Phil Humber
Erik Bedard
Strengths: 
Can I skip this part? No? Ok…..
Rotation: Phil Humber threw a perfect game once and Jordan Lyles has a good changeup. Bud Norris has a good slider and strikeout rates that suggest he should be good, but he's yet to put it together. Erik Bedard has always been good when he's healthy and Lucas Harrell had a 2.34 ERA at Minute Maid Park last year. Alex White has impressed thus far in Spring Training and with Erik Bedard again nursing an injury, expect that White will get some starts in the Majors.
Jose Altuve: is good despite being short.
Carlos Pena: can hit the ball really far.  Occasionally.
And thus ends me being nice to the Astros. We have the pleasure of doing 30 of these season previews, and rarely does a team's roster engender as much snark as does this iteration of the Astros.
Weaknesses: 
Lineup: Jose Altuve is the only above average Major Leaguer on the roster. The rest of the guys are a hodgepodge of semi-decent veterans and some young guys whose potential would best be graded as C+.
Bullpen: Jose Veras is currently listed as the team's closer and he has a 4.01 career ERA. I expect that Jarred Cosart will be the surprise of the year if the Astros choose to put him in that closer role, but he's been a starter throughout the minors and will stay there until it becomes obvious that he should close. The next two guys listed on the official depth chart have career ERAs of 4.55 and 6.05 respectively.
AL West: A team that lost 107 games in the worst division in baseball moves to what could be the best division in baseball. Ruh Roh.
Uniforms: The Astros changed their uniforms pre-2013 and I really don't care for the new hats. The uniforms themselves aren't so bad, but those blue hats with the strange orange star and bold "H" are bizarre. I get the rational of re-branding in an attempt to distance the franchise from the consecutive 105 loss seasons, but just like most other drives the 'Stro's have put together in recent years, they fumbled in the red zone.
Storylines: 
The Draft: The Astros have the first pick in the Rule 4 Amateur Draft this summer (the one with college players and such) and these selections can have quick impacts on the Big League team–if the right guy is picked. After passing on college arm Mark Appel last year for an 18 year old Shortstop prospect named Carlos Correa, do the Astros go the same route? Another pick is Sean Manaea, a lefty at Indiana State who is apparently quite good. Astros fans are already bigger fans of college baseball than most.
The SBNation Astros blog currently has a story up recapping the college baseball weekend that was.
Do they lose 100 games again? Or are they good for no reason, like I wrote about here.
Who do they get back for Bud Norris?
Prediction: 
69-93, last Place, AL West. We can't predict that a team loses 100 games, because of how math works. Also, I don't think their rotation is so bad and that should help in winning more than 62 games.
Bold Predictions: 
Houston relocates on the Astros in the middle of the night
Justin Maxwell hits 24 home runs and steals 17 bags
Bud Norris is traded to the Yankees on June 28th
Bo Porter uses the word opulence in an interview
Craig Biggio throws out the first pitch in an August game and manages to hit himself with the ball
-Sean Morash
Stat of the Day: The Mariners have compiled a .295 OBP over the last three years.