Philadelphia Phillies Season Preview: The Onset Of Senility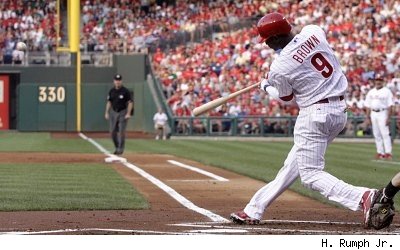 The Philadelphia Phillies' fall from grace was swift and merciless. In 2011, they won a Major League best 102 games behind a scary three headed monster of a rotation. In 2012, they finished .500 at 81-81 thanks to underperformance and injury. Now, though they've improved (slightly), they sit squarely behind two of the best teams in baseball. With Washington and Atlanta in their own division, Philly would need to be as improbably good this year as they were improbably bad last year to make any sort of a run.
Projected Lineup:
Ben Revere Cf

Jimmy Rollins Ss

Chase Utley 2b
Ryan Howard 1b
Carlos Ruiz C
Michael Young 3b
Delmon Young Rf
Dominic Brown Lf
Projected Rotation:
Cole Hamels

Roy Halladay

Cliff Lee
Kyle Kendrick
John Lannan
Strengths:
Experience: The Phillies have no shortage of veterans who know what it takes to win. Between Utley, Rollins, Halladay, Lee, Michael Young, and Ruiz, any young player on the team (there aren't many) will certainly have the guidance to…I don't know… make them better I guess.
Top of the Rotation: Roy Halladay hasn't looked very good this spring and he had a bad year last year coming back from shoulder injuries but he's still in the conversation as one of baseball's best. Cliff Lee had terrible luck last season, but pitched pretty well. He'd still be an Ace on most other teams in baseball. Meanwhile Cole Hamels–who recently signed a massive contract extension keeping him in Philly for the foreseeable future–could actually be the best of the bunch. WAR-wise, Cole was the best Phillie last season when he posted a 3.05 ERA and finished 8th in the Cy Young voting, and he'll be rewarded with his first ever Opening Day start this April 1st. All three of these guys are still potential 20 game winners and will be hell in a short series.
Power: Between Chase Utely, Ryan Howard, Delmon Young, Downtown Dominic Brown, Carlos Ruiz, and even Michael Young, this team will hit a lot of balls out of Citizens Bank Park. The Yankees have proven that you can win living and dying by the long ball, but it kind of looks like a lot of the the Phillies' homers will be solo shots. Unless Ben Revere's OBP has a drastic NL uptick and Rollins returns to some semblance of his old MVP form, I'm not sure who is going to get on base on this team.
Weaknesses:
Age: Everyone on this team is old! Rather than list the old farts, I'll list the young guys out of the Projected Lineup and Rotation: Dominic Brown, Ben Revere, Kyle Kendrick. That's it. Hamels and D. Young aren't old yet, but they're no spring chickens either. Everyone else can be safely considered a seasoned veteran and an aging one at that. They have very little team speed, poor durability, and big contracts. This is a very, very old club.
Right Field: Delmon Young isn't that old, but though he is this side of 26, he moves like a 45 year old. He was the ful time DH for the Tigers last season because they thought he was a liability as a platoon outfielder. So now the Phillies want to make him an every day right fielder in the NL? Yeah, that'll work.
Age, again: Let me talk more about how old the Phillies are because it's the main reason why they won't be that good. Jimmy Rollins has had a great career but, unfortunately, it is closer to its end than its beginning. He had great seasons but those are in the past. He's on the downslope, the back 9, the twilight. He's not as good as he once was. Fine, everybody reaches that point. Problem is, it's the whole damn team: Halladay, Utley, Michael Young–all the big pieces are old, getting older, and getting worse.
Storylines:
Will Jon Papelbon find a leader in the Phillies clubhouse?
With Carlos Ruiz suspended 25 games for getting caught using Adderall twice, how does Erik Kratz fair in April? Further, can Chooch repeat his successful 2012 campaign without the help of the stimulant?
Will Michael Young resurrect his career in the City of Brotherly Love?
Can Halladay return to form?
Can Chase Utley stay healthy?
Will Dominic Brown finally become the star they think he can be?
Will Delmon Young catch a fly ball?
Prediction:
85-77, 3rd place, NL East. The Phillies will be better but with a team this old, injuries will be a problem. The Braves and Nationals are much better than them.
Bold Predictions:
Cole Hamels emerges as one of baseball's elite starters

Dominic Brown hits .277 with 22 homers
Halladay finishes 12-10 with a 4.05 ERA
Though they finish in 3rd, the Phllies are closer to 5th than 1st. The Braves and Nats run away with the division.