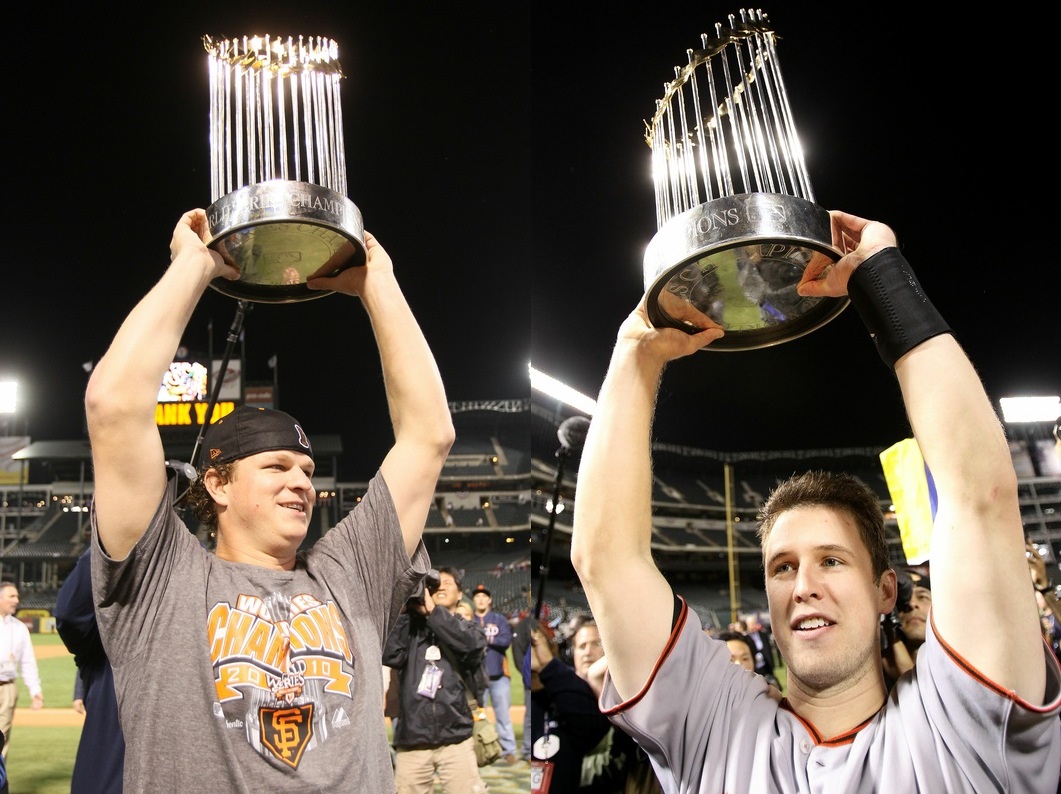 Last season could not have worked out better for Brian Sabean. Before the season, he locked up Matt Cain and Madison Bumgarner to long-term deals and traded the inconsistent Jonathan Sanchez for an All-Star Game MVP (etc.) in Melky Cabreba. At the trade deadline, he acquired impact players Hunter Pence and NLCS MVP Marco Scutaro for a handful of role players. Best of all, his San Francisco Giants won the World Series despite former Ace Tim Lincecum suffering one of the worst pitching seasons in the live ball era. Even that swung Sabean's way as San Francisco was not forced to sign him to a ridiculously priced extension. Assuming The Freak had a freak year, this season the Giants return one of the top pitching staffs in baseball, and although critics will point to their inability to generate runs over the past couple seasons, this year's lineup has the potential to be dangerous.
Projected Lineup:
Angel Pagan (CF)
Marco Scutaro (2B)
Pablo Sandoval (3B)
Buster Posey (C)
Hunter Pence (RF)
Brandon Belt (1B)
Gregor Blanco (LF)
Brandon Crawford (SS)
The Rotation:
Matt Cain
Madison Bumgarner
Tim Lincecum
Barry Zito
Ryan Vogelsong
Strengths:
Rotation: Matt Cain (16-5, 1.04 WHIP, 2.79 ERA in 2012) and Madison Bumgarner (16-11, 1.11 WHIP, 3.37 ERA in 2012) are legitimate Aces, and if former two-time Cy Young winner Tim Lincecum can regain to even part of his old form, the top of their rotation should be stacked. Cain, last year's NL All-Star starter, has been the model of consistency throughout his career and should be viewed as one of the preseason Cy Young favorites. Last season Ryan Vogelsong proved he was not a one-year wonder and established himself as an excellent backend starter. Fans can hope that Zito's dominant "Rally Zito" performance in the 2012 NLCS will carry over into this season, but the rotation is solid even if he falters back to the mean.
Bullpen: Sergio "I just look illegal" Romo will take over as the primary closer with Brian Wilson's status uncertain as he has yet to sign with any team. Romo's underwhelming fastball (87-90) is complemented with a ridiculous slider that buckles knees and leaves hitters dumbfounded at the plate. His brilliance was in full effect during the final game of the World Series last year, when he struck out the side and left Triple Crown Winner Miguel Cabrera staring at an 86 MPH fastball for strike three. The rest of the Giants bullpen, while showcasing no flamethrowers, is certainly not a weakness. Santiago Casilla, Jeremy Affeldt, and lefty specialist Javier Lopez all had ERA's under 3.00 last year and should see the bulk of the 6th, 7th, and 8th innings. Ramon Ramirez, Jose Mijares, and Clay Hensley fill out the 'pen with class, if not stuff.
Middle of the Order: Sandoval, Posey, and Pence finally give the Giants a strong middle of the order that can match up with other top NL teams. If Sandoval can remain healthy, he has the ability to hit for average and power from the three spot. A lot of pressure will rest on Posey to repeat last year's MVP performance (.336 AVG, 24 HRs, 103 RBI). Pence is in his contract year and will look to put up big numbers before hitting the open market. Overall, this unit has the potential to feed off each other and carry the whole offensive load.
Weaknesses:
The Giants have a few weaknesses but no glaring holes.
Durability: As always, injuries are their biggest concern. Last year's World Series MVP Pablo Sandoval played in just 108 games during the regular season, and has missed a total of 198 games over the past four years. Buster Posey's surgically repaired leg held up miraculously well last year, but we'll see if he can replicate his MVP performance while staying healthy. Durability is also mental. The Giants, collectively, are vulnerable to periods of ineptitude. They always seem to pull off late game heroics, but they have a tough time putting the game away early.
Power: The Giants were last in the ML in homers last season by a wide margin, hitting only 103 as a team. And Buster Posey hit 24 of them. Outside him, the next highest total was 12. Though Posey, Sandoval, and Pence all have considerable power, ATT Park is notoriously difficult to home runs in. The pitching is good enough that the Giants hopefully won't need to score a ton to win but a homer every now and then sure wouldn't hurt.
Storylines:
The Dodgers-Giants rivalry will be as heated as ever. The Dodgers have arguably the most talented lineup in baseball and, should they reach their potential, will be a difficult team to beat for the division. Nevertheless, watching these two teams battle will be one of the highlights of this upcoming season.
Will this be Tim Lincecum's final season with the Giants? If Lincecum repeats last year's dismal performance, the Giants will be forced to evaluate whether to move in another direction with the one-time face of their franchise.
Prediction:
93-69, 2nd Place, NL West. The Giants will finish one game worse than they did last year and will make the playoffs as a Wildcard. Although the Cincinnati Reds and the Washington Nationals have talented teams, the Los Angeles Dodgers will have the best record in the National League this year. However, the Giants are built for the postseason, so don't be surprised if they repeat last year's playoff magic.
Bold Predictions:
The Giants don't win the NL West, but win the World Series.
Matt Cain finishes second in the Cy Young behind Clayton Kershaw.
Buster Posey, Pablo Sandoval, and Hunter Pence all eclipse 25 homeruns.
Barry Zito finishes with a lower ERA than Tim Lincecum.
-Zander Mrlik and Johnny Mrlik
Stat of the Day:  This is not the first article Zander has written for the blog but it is the first he's penned with his brother Johnny.