Baltimore Orioles Season Preview: What A Difference A Year Makes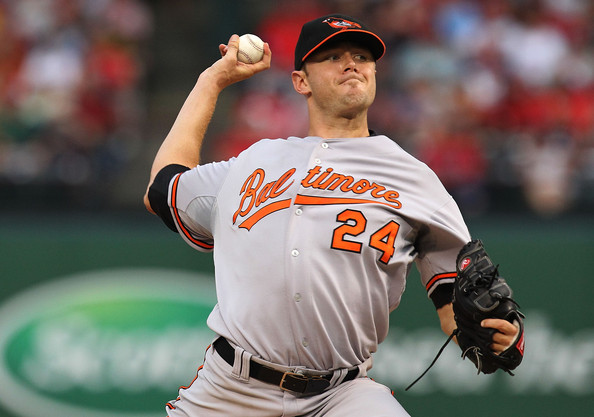 What a difference a year makes for the Baltimore Orioles. One year ago, the baseball world was preparing for the Orioles 15th consecutive losing season; now, Orioles fans are wondering if their beloved birds can repeat the magic. The big story of last year's Orioles fairytale was their record in close games. En route to a 93-69 record, and ultimately a playoff spot, the Orioles posted a 29-9 mark in one-run games. Additionally, the squad turned in a 16-2 mark in extra-innings, and a 74-0 mark when they had a lead after seven innings. The Orioles run in close games failed them in the playoffs though, as they fell to the New York Yankees in five games, dropping one game they led after seven innings, and a second one in extra frames.
While all of the team's statistics in close games may indicate luck–or at least suggest a regression to the mean for the 2013 squad–the Orioles 48-29 record in the second half of last year would suggest otherwise. This offseason, manager Buck Showalter and General Manager Dan Duquette made few moves of consequence, meaning this year's team will be very similar to last year's squad that battled down the stretch.
Projected Lineup:
Brian Roberts (2B)
Nate McClouth (LF)
Nick Markakis (RF)
Adam Jones (CF)
Matt Wieters (C)
Chris Davis (1B)
J.J. Hardy (SS)
Nolan Reimold (DH)
Manny Machado (3B)
Projected Rotation:
Jason Hammel
Wei-Yin Chen
Chris Tillman
Miguel Gonzalez
Jake Arrieta
Strengths:
Bullpen: The Orioles may just have the best bullpen in baseball. Jim Johnson is solid as a closer, finishing last year with 51 saves, a 2.49 ERA and a 1.02 WHIP. In front of Johnson, lefties Brian Matusz and Troy Patton, and righties Darren O'Day, Luis Ayala, Tommy Hunter and Pedro Strop are all coming off stellar 2012 performances. Matusz and Hunter both started 2012 in the rotation, but since moving to the bullpen in August and September respectively, excelled. Matusz threw 13.1 innings in relief, giving up just two runs (both earned) while fanning 19. Hunter gave up just a lone run (earned) in 12.2 bullpen innings while striking out 12 of his own.  On top of the two converted starters, O'Day, Patton, Strop, and Ayala all finished with ERAs between 2.28 and 2.64. If these pitchers can come close to replicating last year's form, the Orioles bullpen will be nearly untouchable.
Power: In addition to the bullpen, the Orioles lineup is one of the most potent in baseball. While this group may struggle to get on base, Jones and Davis both hit over 30 homeruns last year, while Wieters and Hardy hit over 20 at positions that don't often produce much offense. With Brian Roberts and Nolan Reimold back from injury and Manny Machado in his second year against big league pitching, the Orioles bats could even see a substantial jump from last year.
Weaknesses:
The Top of The Rotation: The Orioles starting pitching woes are unlike those of most teams. Whereas most squads struggle to fill out their rotation, the Orioles have more than enough arms; their trouble is quality at the top. Jason Hammel went 8-6 with a 3.43 ERA last year, while Wei-Yen Chen went 12-11 with a 4.02 ERA. Those two (along with Tommy Hunter) were the only players with 20 or more starts for the Orioles last year. Hunter's 5.45 ERA does not make him a candidate to start in 2013. Jake Arrieta began last year as the team's ace, but after a season that saw him finish 3-9 with a 6.20 ERA he'll have to battle just to crack the rotation.
Meanwhile, Miguel Gonzalez and Chris Tillman were both revelations last year, despite coming from very different backgrounds. Gonzalez, who went 9-4 with a 3.25 ERA, finishing the year with eight quality starts in his last ten games, is currently in his first Major League Spring Training– the Orioles found him playing winter ball in Mexico before the 2012 season. Tillman, who finished the year 9-3 with a 2.93 ERA, tore up the minors as a top prospect in 2008, 2009, and 2010, only to struggle with the Orioles in big league stints in 2010, and 2011. Tillman also struggled at the AAA level in 2011, and 2012 (8-9 with a 3.79 ERA) belying last years big-league success.
In addition to the five men likely to make the rotation, Hunter and Matusz both have plenty of starting experience, as does Zach Britton. Steve Johnson, who went 4-0 with a 2.11 ERA in four starts for the O's last year also waits in the wings. Finally, as if they didn't have enough options, 2012 first round pick Kevin Gausman and 2011 first round pick Dylan Bundy, Baseball America's No. 26, and No. 2 prospects respectively, are both arguably ready to make their rotation debuts should a spot become open.
Storylines:
Can the Orioles replicate last year's success in close games? The strength in their bullpen indicates that the 2012 record in close games might actually not be as flukey as once thought. (Although 29-9 in one-run games, and 16-2 in extra innings both scream flukes, no matter who's in the 'pen).
Can Brian Roberts stay healthy? The Orioles lack depth behind Roberts, who has not managed to play in more than 60 games since 2009. For now the dimunitive second baseman appears healthy, but what type of form will he be in throughout the year? Can he still handle the grind of a 162-game schedule? Has he maintained his speed through all of the injuries?
Who will be on the team's bench? Outside of the starting nine, the Orioles bench is composed of youngsters like last year's Rule-5 pick Ryan Flaherty, and MLB journeymen like Wilson Betemit and Danny Valencia. There really is not a whole lot of depth to this team, and if they face injuries they may be in trouble—unless they find diamonds on the wire like they did with McClouth last season.
Prediction:
82-80, Fifth Place, AL East. The team has a lot of strengths, but given the sheer amount of luck required, they will not be able to replicate last year's success. The bullpen and hitting should be enough to carry them over .500, but unlike last year, this is not a playoff squad.
Bold Predictions:
The Orioles will make this year's biggest deadline splash. They need a power bat in the middle of the order and have the pitching prospects to make that happen. (Chase Headley's name need not come up here, but it just did. Also, Mike Morse?)
Brian Roberts will retire at the end of the season.
Buck Showalter will be out as manager after the year. Owner Peter Angelos has always struggled to get along with successful managers, especially ones with large personalities. Much like after 1997 when Davy Johnson was shooed away, Showalter won't be able to deal with the meddling Angelos.
-Andy Marmer
Stat of the Day: This is Andy's first article written for Off The Bench. Andy's a good friend of the blog and we thank him for his writing and insight on the 2013 Orioles and look forward to more contributions from him going forward.