Arizona Diamondbacks Season Preview: "Prepared Baseball"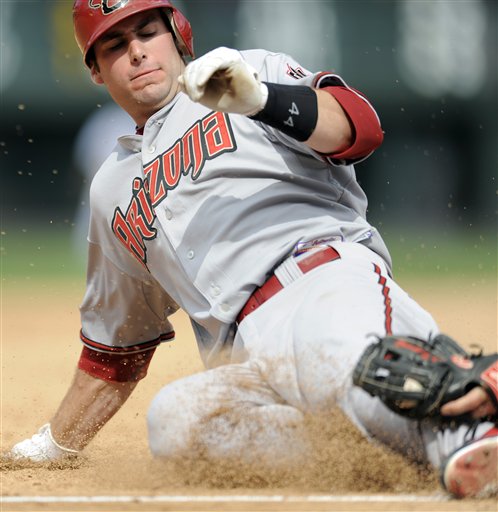 After a division title in 2011, the D'backs disappointing .500 mark last season was good only for third place in the NL West. Things started well, but the injury bug bit hard and then dysfunction set in. Chris Young began the year on fire but an unfortunate liaison with the center field wall derailed his promising season and he was frustratingly bad for the remainder. Justin Upton battled a mysterious thumb injury for much of the year and questions swirled about his commitment. By seasons's end his relationship with the front office was damaged beyond repair. The organization retooled in the offseason, loading up with "gritty" players committed to a Kirk Gibson style of baseball. Just don't call Brandon McCarthy a "Grinder."
Projected Lineup:
 Adam Eaton, Cf
Martin Prado, 3b
Miguel Montero, C
Jason Kubel, Lf
Paul Goldschmidt, 1b
Aaron Hill, 2b
Cody Ross, Rf
Cliff Pennington/Willie Bloomquist, Ss
The Rotation:
Ian Kennedy

Wade Miley
Trevor Cahill
Brandon McCarthy
Tyler Skaggs
Strengths:
Makeup: When scouts evaluate a player, they look at "makeup" along side of "tools." (Why wasn't Billy Bean good?) This year's Arizona lineup is heavy on the makeup and arguably light on the tools. Both offensively and defensively, most guys on this team have earned their way to starting jobs from relative obscurity. Cliff Pennington and Aaron Hill are the only first round picks in the lineup and the next highest is Cody Ross in the fourth round. Much ado has been made over the "organizational shift" in Arizona–shipping out toolsy studs like Justin Upton and Chris Young, and stocking up on hard nosed "grinders" like Ross and Brandon McCarthy. Time will tell if it's a winning philosophy, but it's clear that manager Kirk Gibson has a roster in his image. That can't be such a bad thing.
Motivation: In a lot of ways, it goes with "makeup." Guys who play the game the right way are going to be motivated all the time. The fact that the organization is coming off a very disappointing 2012 only adds to the fire already burning. The Diamondbacks have a lot to prove, as a team and as an organization. Make no mistake, the front office will endure a major shakeup if Justin Upton rakes in Atlanta and Arizona falters once more.
Youth on the Staff: The average age of the rotation is 26. At 30, Brandon McCarthy is the eldest statesmen. This is a group of young guys with solid stuff and plenty of gas left to kick it into that extra gear if necessary. Ian Kennedy is coming off a great season as the number one, much to the chagrin of Yankee fans everywhere. Skaggs is one of baseball's top prospects and Cahill is expected to be a rotation mainstay.
Weaknesses:
No Big Bat: Jason Kubel hits some home runs. So does Paul Goldschmidt. So do Aaron Hill and Cody Ross. None of these guys, however, can be counted on to demolish baseballs with consistency. As the organization shifts to a more "well-rounded" image, the raw numbers will drop in the absence of a true slugger. Kubel hit 30 last year and another season like that will be a big help, but it can't be counted on. Reputable sources project no one in the D'backs lineup to slug over .490 or hit more than 25 homers.
No Big Arm: The same issue afflicts the rotation. Ian Kennedy is a very good pitcher. Trevor Cahill is a good pitcher. So are Wade Miley and Brandon Mccarthy. None of them is a true Ace and the D'backs will feel the void when facing off with the Dodgers and Giants. Those same reputable sources project no pitcher over 13 wins or ERA under 3.75.
Storylines:
Will Kubel's bat keep him in the lineup and Gerardo Parra's golden glove out of the outfield?
Martin Prado, acquired from the Braves in the Upton deal, is one of baseball's most respected players and is a strong veteran presence in the lineup. Look for him to have a big season.
When is Daniel Hudson coming back? Can help this team down the stretch?
Who is the shortstop? Will Willie Bloomquist win the job from Cliff Pennington? What about Didi Gregorious? This will be an interesting situation to watch.
Prediction:
83-79, Third Place, NL West. The D'backs have some pieces, but they are in a division with the defending WS champs and the Los Angeles Dineros. Things will go well at times–Arizona should certainly beat up on the weaker teams around the NL–but they still have a ways to go to hang with the elite.
Bold Predictions:
Wade Miley regresses to the tune of an over-4.00 ERA and is supplanted in the rotation by a deadline acquisition.

J.J. Putz is a putz, but has a sub-3.00 ERA and 30 saves.
Heath Bell sucks again.
Paul Goldschmidt does not lead the team in stolen bases.
Stat of the Day: Paul Goldschmidt led the Diamondbacks in stolen bases last season.  (I have not checked, but I believe he was the only first baseman to do so in all MLB.)