Toronto Blue Jays Season Preview: Upgrade!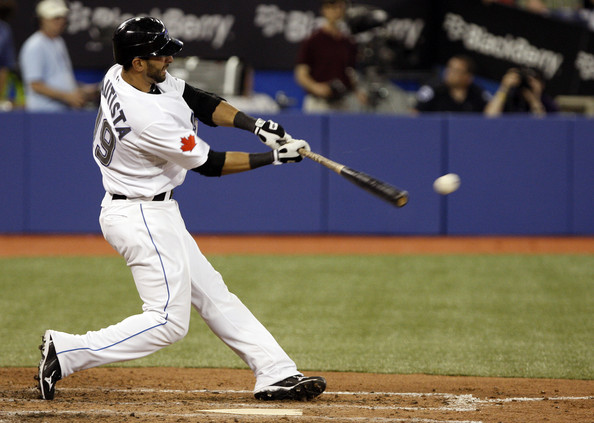 The remanent international franchise in MLB finished the 2012 season at 73-89 in the AL East. Thanks to the Red Sox though, they didn't finish last. It was a fairly typical season in Toronto, one marked by sustained mediocrity interrupted sporadically by periods of ineptitude and injury. But, that all changed as soon as the season ended. Alex Anthopoulos pulled out all the stops during the offseason, wheeling and dealing to a degree rarely seen in baseball. When the dust cleared, Toronto had looted a floundering Miami franchise, hoodwinked the Mets, and even conspired to trade their manager for players. Now, will it all work out?
Projected Lineup:
Jose Reyes, SS

Melky Cabrera, LF
Jose Bautista, RF
Edwin Encarnacion, DH
Brett Lawrie, 3B
Adam Lind, 1B
Colby Rasmus, CF
J.P. Arencibia, C
Emilio Bonafacio, 2B
*Author's note: The official Blue Jays depth chart does not reflect this lineup, but it is so mangled one must assume it will be corrected before the season.
The Rotation:
R.A. Dickey

Brandon Morrow
Mark Buehrle
Josh Johnson
Rickey Romero
Strengths:
Where to start? This is a loaded squad, so we'll keep it traditional.
Rotation: It's not too often that a team begins a season with it's former Ace battling for the fifth spot in the rotation. "Overhaul" is an understatement for what the Jays did to their rotation, bringing in the reigning NL Cy Young and a guy whose thrown two No-Hitters. And Josh Johnson, the Marlins mercurial Ace. Knocking on wood, this is a formidable, formidable staff.
Lineup: Here we go again. The Blue Jays opening day lineup will actually feature six of the nine hitters from 2012′s iteration. The difference is that the three newcomers are such massive upgrades form their predecessors. Jose Reyes replaces Yunel Escobar; Melky Cabrera bumps Rajai Davis to the fourth outfield spot; Emilio Bonafacio fills the hole left by Kelly Johnson. Add to this a healthy Jose Bautista, the continued maturation of Colby Rasmus and Brett Lawrie, a projected resurgence for Adam Lind, and you've got yourself a fearsome lineup.
Closer: Casey Janssen is well respected, but arguably under appreciated. Last year, on a bad team, he saved 22 games blowing only three, held opponents to a .195 BA, and turned in a 2.54 ERA to compliment a sparkling 0.86 WHIP. This guy is good, and with better starters going later into games, he'll find himself in more comfortable positions than last year.
Weaknesses:
Rest of the 'Pen: Any time you have Darren "Father Time" Oliver listed as the seventh inning guy, things have a ways to go. Setup man Sergio Santos has great stuff, but has struggled with arm soreness over his career and was continuing that struggle as of this week in Spring ball. Beyond those two, it gets even thinner. Toronto will certainly be banking on quality starts from its juggernaut rotation.
Fanbase: It's not hockey, eh.
Injury Prone Stars: Does Reyes pull a hammy? Does Johnson do a shoulder? How is Bautista's wrist? Bonafacio's thumb/whatever? There is so much talent on this team that one might be prone to poo poo the significance of these injury histories. But it is amazing how much one injury can take the wind out of winning sails. The Blue Jays trainers will be paying extra attention to the new imports–and hoping they stretch enough.
Storylines:
How do the New Blue Jays gel? Do all the big personalities mesh, al la the Miami Heat? Or do they clash like Tebow and Sanchez?
Can R.A. Dickey repeat the feat? Can Edwin Encarnacion?
Is the second time the charm for manager John Gibbons?
Can the Jays capitalize on Yankee injuries and rebuilding years in Boston and Tampa, and take the East by storm?
Prediction:
96-66, First Place, AL East. Not everything will go as planned for the Blue Jays, but they have the best on-paper team in the division and it's about time someone gave them the benefit of the doubt. New York is in turmoil, Boston is in recovery, Tampa is about a year from where they want to be, and Baltimore is–despite its best efforts–still Baltimore. This is the year of the Canadian invasion.
Bold Predictions:
Jose Bautista makes up for lost time and goes off for 50+ bombs

Josh Johnson goes 12-8 with a 3.71 ERA
R.A. Dickey goes 15-10 with a 3.71 ERA
Jose Reyes spends 30 games on the DL
Toronto makes it to the World Series
Stat of The Day: DNA degrades in about 6.8 million years. Dinosaurs died off about 65 million years ago. Thus, there is no way to clone them.  No Jurassic Park for us.