Adam Eaton, Gerardo Parra, And The All-Important Fourth Outfielder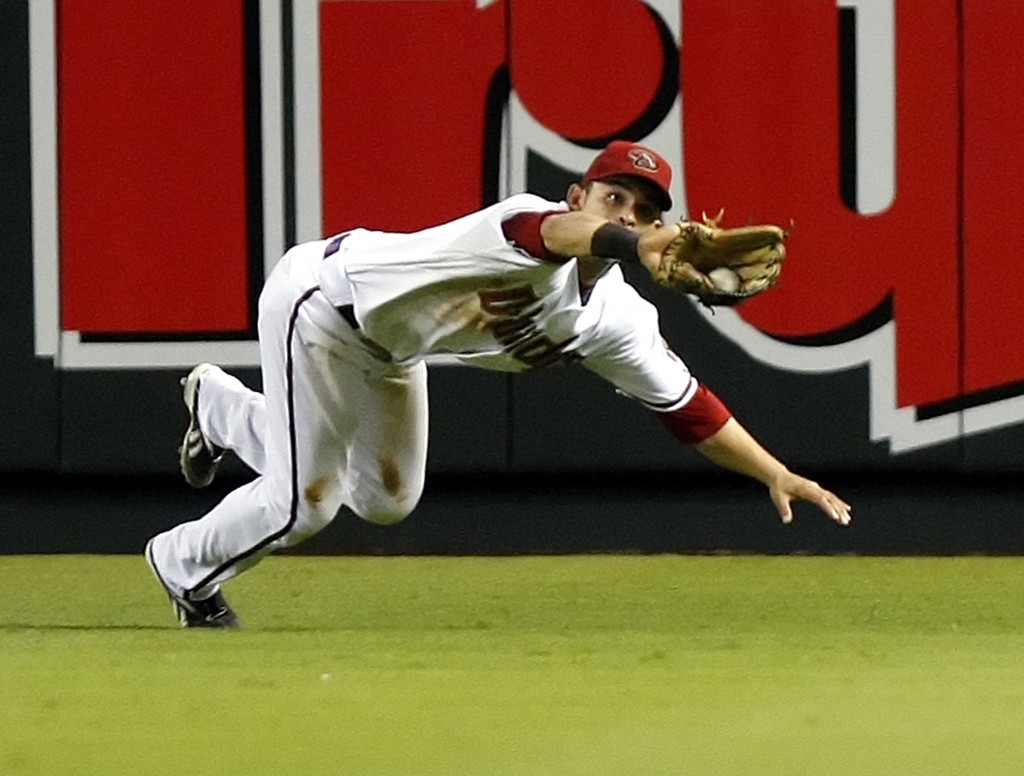 This offseason, it became apparent that the Arizona Diamondbacks were stockpiling outfielders as they geared up to send Justin Upton somewhere–anywhere.  Somewhere along the line though, the Diamondbacks started stockpiling outfielders just to stockpile them.  Justin wound up alongside his brother in Atlanta, and the D'backs wound up with an outfield logjam.  As it turns out, they also wound up looking pretty smart.  Rookie center fielder Adam Eaton has been sidelined for up to two months with what has been described as a frayed Ulnar Collateral Ligament.  Those of you familiar with the UCL, know the ligament's damning nature with pitchers, and the same fate largely afflicts outfielders.  (Think about how it derailed the past two seasons of Carl Crawford's promising career.)  Still, has stockpiling outfielders become as important as stockpiling starting pitchers for teams who want to compete? Is the Diamondback's approach just the most publicized version of a new industry-wide value placed on depth in the outfield?
A fourth outfielder is on every roster, but not every roster has a guy capable of filling in for an extended period.  Often, executives and managers want a guy who can play all three positions.  Think about the number of at bats that this position is allotted.  Assuming, he can play all three outfield positions and is good enough to justify starting over other guys on the roster throughout the year, the fourth outfielder gets the start on each of the outfielders' days off and in the event of an injury.  Those starts result in about 300 at bats a year.  A guy guaranteed for 300 at bats a year with the potential for more in the event of an injury is awfully important.
Consider how greatly the fourth outfielder affected playoff races last year.
Gregor Blanco: Melky Cabrera was the All-Star Game MVP.  He was leading the league in average and had helped to buoy the Giants while their pitching staff (Tim Lincecum) figured things out (or didn't, Tim Lincecum).  Then the pesky blood testing popped up and the Giants were left dependent on fourth outfielder Gregor Blanco.  Blanco hit .291 in the season's final month and posted a .751 OPS in the postseason.  He certainly didn't turn into a superstar, but his performance in the postseason assisted in sending the World Series title back to San Fran.
Red Sox: Jacoby Ellsbury missed the entire 2010 season with an injury.  He was great in 2011 and then was incredibly slowed last year by injury, managing just 303 at bats. Carl Crawford also missed time (managing just 117 at bats last year).  In stepped the fourth outfielder Ryan Kalish.  Out stepped the fourth outfielder Ryan Kalish with an injury.  Down go the Boston Red Sox.  The 2012 Red Sox were dysfunctional across the board, and their shortcomings are the sum of more than just their fourth outfielder woes, but the struggles of Jacoby Ellsbury and Ryan Kalish and then Marlon Byrd were certainly a large part of the equation.
Matt Kemp's Hamstring: The Los Angeles Dodgers had the best record in baseball up until the time when Matt Kemp injured his hamstring.  Kemp still managed 400 at bats, but that meant that 200 of his at bats went to the Dodgers' fourth outfielder.  The Dodgers situation is unique in the way they handled it.  A few hundred at bats went to Shane Victorino, Bobby Abreu, Juan Rivera, and Tony Gwynn Jr.  The Dodgers struggled without their superstar center fielder and ultimately finished out of the playoffs even with midseason acquisitions of Hanley Ramirez, Adrian Gonzalez, and Shane Victorino.  Without an adequate replacement for Kemp while he nursed the injured leg, the Dodgers offense was left scrambling.
With an appropriately talented backup outfielder, seasons potentially derailed by injuries to the star player can be salvaged.  By no means should one expect the fourth outfielder to be as talented or as good as the three starters, but he needs to be a player that the organization is comfortable with and confident can produce in 300 at bats a year and maybe a starting job for week(s) on end.
Back to the current iteration of the Diamondbacks.  At some point this offseason, they had Chris Young, Justin Upton, and Jason Kubel as their starting trio.  Now, on Opening Day, we'll see an outfield trio of Gerardo Parra, Jason Kubel, and Cody Ross.  This represents an extreme in outfield turnover (and has to be concerning given their newfound emphasis on grit), but at the end of the day, the Diamondbacks kept fourth outfielder and Gold Glove winner Gerardo Parra and are therefore well equipped to allow Adam Eaton appropriate time to rehab his injury.
Things happen over the course of 162 games.  Organizational depth is almost as important as front end talent.  Teams will typically use seven or eight starting pitchers in a year.  The Braves made the playoffs last year winning 94 games and had 10 different starters throw out the first pitch.  The Orioles famously used 12 guys.  It's incredibly important that an organization have plans in place in the event that a starting pitcher gets hurt, but it's just as important that there is a contingency plan for the outfield.
The Diamondbacks had a contingency plan and their season should scoot right along, not too worse for the ware.
Stat of the Day:  I set out to write a post titled "The Adam Eaton Injury is Bad News for the Diamondbacks."