Colorado Rockies Season Preview: Everybody's Healthy… Now What?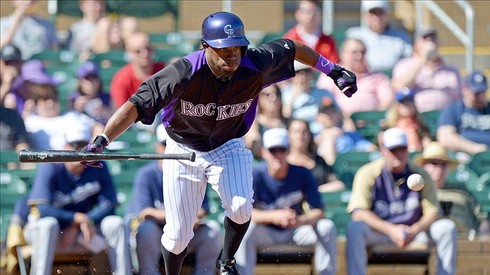 The Colorado Rockies have struggled to put together a complete season since their 2007 World Series bid, and 2012 was no different. Their 64 wins came as a result of nagging injuries to key players and an lack of any sort of starting rotation. This year, the Rockies return shortstop Troy Tulowitzki and pitchers Jhoulys Chacin, Jorge de la Rosa, and Juan Nicasio to the starting rotation. That's all well amd good, but to contend they will need consistency. With the Dodgers nearly doubling their payroll for the 2013 season and the Giants returning most of their World Series roster, the Rockies will again find it tough to compete in the division.
Projected Lineup:
Dexter Fowler CF
Josh Rutledge 2B
Carlos Gonzalez LF
Troy Tulowitzki SS
Michael Cuddyer RF
Todd Helton 1B
Wilin Rosario C
Chris Nelson 3B
Projected Rotation:
Jorge de la Rosa
Jhoulys Chacin
Juan Nicasio
Drew Pomeranz
Jeff Francis
Strengths:
Lineup: Despite their struggles in 2012 the Colorado Rockies offense as a whole was one of the most productive in the National League; as a team they ranked first in hits per game, second in batting average, and sixth in runs scored–all without shortstop Troy Tulowitzki for most of the season. Fueling the offense this year will be perennial MVP candidates Troy Tulowitzki and Carlos Gonzalez. Colorado will also look to Wilin Rosario who hit .270 with 27 bombs while splitting time behind the plate last year. Even though the potency of the Rockies offense is exaggerated by the thin air at Coors Field, if the pesky trio of Dexter Fowler, Jordan Pacheco, and Josh Rutledge can repeat the successes they found last year, a healthy Rockies lineup has the potential to be a top five offense anywhere in baseball.
Depth: The Rockies bench has several legitimate starting candidates for almost every spot on the field. Jordan Pacheco who was sixth in the National League in average last year at .309 will return without a starting spot. At third base Chris Nelson will get the opening day nod, but rookie Nolan Arenado is hitting .333 with four home runs thus far in spring training. In the outfield, Charlie Blackmon (.375 in the spring) and Tyler Colvin (22 home runs last year) are fighting for playing time. Not to mention Eric Young Jr. who is having a fantastic spring and may even be the frontrunner to pick up an outfield spot should one open up.
Weaknesses:
Starting Pitching: It is no secret that the Colorado Rockies had the worst starting rotation in the National League last year, and perhaps in all of baseball. Despite the success of the offense, their abysmal pitching left them with a -132 run differential. Manager Jim Tracy took the team to a four man rotation last year with a 75 pitch count, but in 2013 under Walt Weiss the team returns three established starters and will again go with the traditional five man rotation. However, all three of the returning starters are coming back from serious injury and have yet to be tested. Jorge de la Rosa is coming off Tommy John surgery, Juan Nicasio suffered a gruesome line drive to the neck, and Jhoulys Chacin had severe shoulder pain that kept him out for several weeks last year. Whether or not they can compete consistently and give a capable Rockies bullpen a chance to win games will likely be what makes or breaks the 2013 season.
Youth: While the Rockies saw excellent numbers from Wilin Rosario and Jordan Pacheco last year, it has yet to be seen if those two can consistently produce at those levels. The same question looms for sophomore Josh Rutledge at second base, and several other young players. The Rockies will be depending on everyone to continue to produce if they are to improve on their less-than-impressive 2012 campaign.
Storylines:
Can Troy Tulowitzki and Carlos Gonzalez stay healthy for an entire season?
Will the Rockies starting rotation show improvement?
Will Wilin Rosario and Jordan Pacheco continue to produce?
Will Michael Cuddyer finish the season in a Rockies uniform?
Prediction:
75-87, 5th place, NL West. This team certainly has the potential to be a lot better than this prediction but it's likely that their sub par starting pitching will hold them back again. Factor in a rookie manager and a tough division and this could be a frustrating season for Rockies fans. (Note: Max rewrote the predication section when he saw that Cameron had originally pegged the Rockies as finishing with 88 wins. Sorry Cam, that ain't happening, but if it does, I'll buy you a beer.)
 Bold Predictions:
Carlos Gonzalez wins the National League MVP, Troy Tulowitzki finishes second
Owner Charlie Momfort abandons his "winning isn't everything" slogan
The Rockeis make the playoffs
Todd Helton hits .315 and retires after his 16th season as the Rockies all-time leader in hits, home runs, doubles, walks, runs scored, RBIs, games played, and total bases
-Cameron Hood
Stat of the Day: This is Cameron's first post for Off The Bench. Also, he really is from Colorado.