Milwaukee Brewers Season Preview: At Least We Can Hit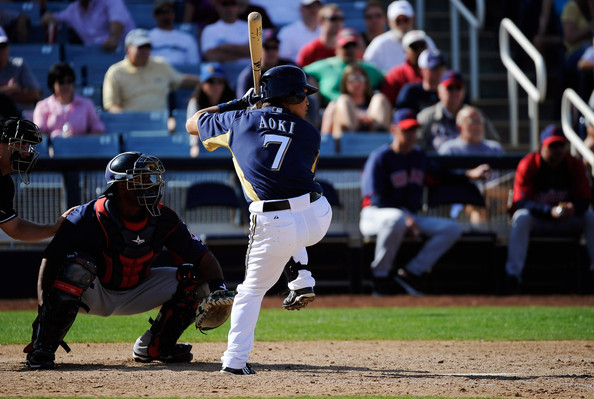 Spring Training 2012 was full of question marks for the Milwaukee Brewers, in that it was their first in some time without Prince Fielder.  Ryan Braun was expected by some to regress without the hefty lefty's lineup protection, and amidst steroid accusations (and perhaps without those same steroids).  Braun again finds homself nagged by drug issues, and now that Zack Grienke is in L.A., what fate lies before the Brewers?
Projected Lineup:
Norichika Aoki (RF)

Rickie Weeks (2B)
Ryan Braun (LF)
Aramis Ramirez (3B)
Corey Hart (1B)
Jonathon Lucroy (C)
Carlos Gomez (CF)
Jean Segura (SS)
The Rotation: 
Yovani Gallardo

Kyle Lohse
Marco Estrada
Wily Peralta
Mike Fiers
Strengths: 
Lineup: This is a team that can really, really hit.  Figuring that perennial MVP candidate Ryan Braun is still Ryan Braun and that the renewed power from Aramis Ramirez is legitimate, this should be a team that scores a bunch of runs again.  Remember, the Brewers scored the third most runs in the Majors last year without the help of the DH.  Corey Hart, Jonathon Lucroy, and Norichika Aoki might be some of the most impressively underrated guys in the Majors.  Realistically, the same can be said for stalwarts Ryan Braun and Aramis Ramirez.
Ryan Braun:  Braun has posted back to back 30/30 seasons and has received MVP votes in each of the six years that he's been in the Majors.  He's accumulated 32 WAR in that time.  Basically, The Hebrew Hammer is really good and needs to be appreciated more.
Logo: I really like the classic glove and ball design of the Brewers. Also, their name has a nice ring as it conjures memories of another set of Brewers located in Poughkeepsie, New York.
Weaknesses: 
Rotation:  Behind Yovani Gallardo, the rotation gets shaky. Wily Peralta looked great in his cup of coffee last year, but he had an underwhelming 4.66 ERA and 1.58 WHIP in 146 2/3 innings at Triple-A Nashville.  Michael Fiers doesn't seem to have the stuff to keep getting people out with the propensity he displayed last year and nobody has ever suggested Marco Estrada could be a No. 2 on a winning team.  Luckily, team executives realized their need and signed Kyle Lohse to a three year, $33 Million deal just yesterday.  While that deal helps to sure up the rotation, it still lags behind the offense and other rotations across the league.
Bullpen:  John Axford lost it a bit last year.  He blew nine save opportunities and posted a 4-something ERA.  He's returning as the closer and at present his top setup man, Jim Henderson, was a 29 year old rookie last year. They also had the worst bullpen ERA in the National League in 2012.  It's a group that should give fans fits as the team will lose plenty of games late and there's nothing worse than that.
1st base: Corey Hart was the plan at first until he needed surgery to clear some stuff up.  He's expected to be out until mid-May and his replacement, Mat Gamel, just had ACL replacement surgery.  With both sidelined, the Brewers have turned to Alex Gonzalez.  The catch is that Gonzalez's bat barely played at shortstop where he was seen as an above average defender.  At first base, his career .292 OBP will be an even bigger problem.  I'm not sure if the Brewers have placed an unprecedented importance on first base defense, or if they're just dumb–but Alex Gonzalez as the first baseman is bad news, even for just six weeks.
Storylines: 
Can Ryan Braun's lawyers keep it up through another calendar year?
Can Yovani Gallardo get to 200 strikeouts for the 5th straight season?
What effect does the Kyle Lohse signing have on the rotation? Is he ready to go after missing 90% of spring training?
Is Jean Segura ready for everyday shortstop duties?
Prediction: 
78-84, 4th place, NL Central.  The Brewers just don't have what it takes to hang with the Reds or Cardinals, and the pitching, even with Kyle Lohse, will be more than bad enough to compensate for what their Superman does on offense.  Number 8 can't do it all and I'm not sure his compadres in the lineup will be able to replicate the season they had in 2012.
Bold Prediction: 
Ryan Braun finishes outside of the top five in MVP voting and still goes 30/30
Kyle Lohse is the third best pitcher in the Cardinals rotation
Corey Hart and Aramis Ramirez combine to hit 43 home runs
Rickie Weeks hits .247
Stat of the Day: Outfield prospect Khris Davis has six home runs this spring and is creating a buzz with his bat.  He may make the Brewers Opening Day 25-man.