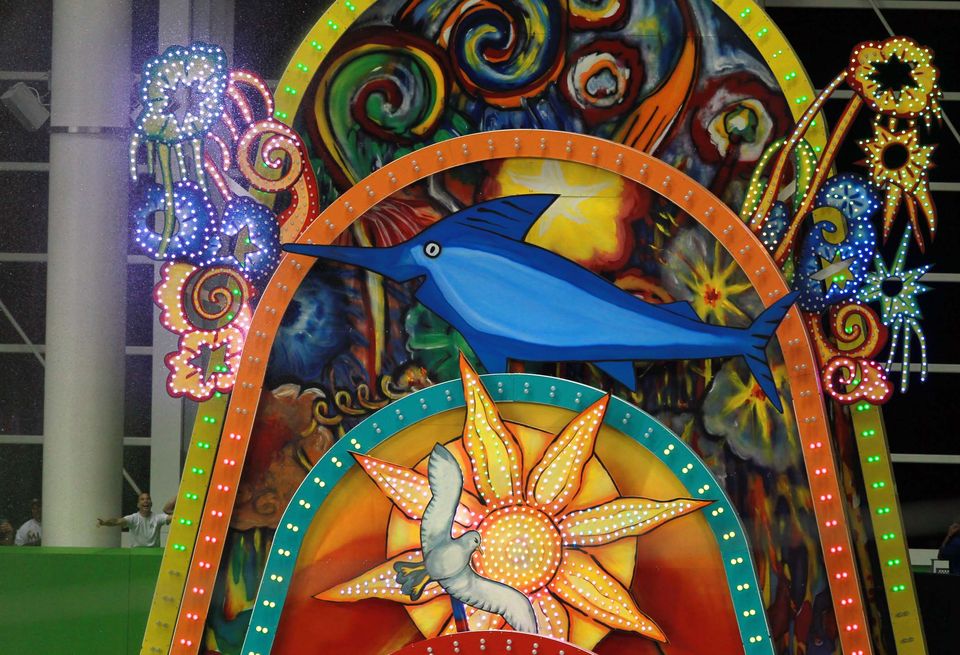 The 2012 season would be forever ingrained in the minds of Marlins fans–if there were any. The promise of an indulgent offseason abruptly evaporated into despair as Jeffry Loria methodically gutted the franchise and left the city of Miami with a roster of journeymen and minor leaguers, and a $2.4 billion stadium tab. This past winter, Loria did nothing to ameliorate Miami's suffering. He penned a callous and woefully misguided letter in the Herald instead of making any effort to bolster the team's frail roster. Giancarlo Stanton sounded off on Twitter and no one really knows how that relationship is going to play out, but everyone is pretty sure Stanton will mash anyway. And that about brings us up to speed.
Projected Lineup:
Juan Pierre, Lf

Placido Polanco, 3b
Giancarlo Stanton, Rf
Justin Ruggiano, Cf
Casey Kotchman, 1b
Rob Brantly, C
Donovan Solano, 2b
Adeiny Hechavarria, Ss
The Rotation:
Ricky Nolasco

Nate Eovaldi
Wade LeBlanc
Henderson Alvarez
Kevin Slowey
Strengths:
Giancarlo Stanton: Perhaps the purest hitter in the game today, Stanton is reminiscent of a young Manny Ramirez. His power to right is awe-inspiring and he makes pitchers question their scouting reports when he steps into the box. Plus, he is going to be playing angry this year. The man was given a team to play with and had it ripped away by the hand that feeds him. If only the Loria owners' box were located deep in the left center bleachers… Alas, he'll have to settle for punishing that stupid sculpture thing instead.
Youth(?): Well we had to put something else under strengths… The Marlins will start a rookie catcher, a rookie shortstop, and an almost-rookie second baseman. And Justin Ruggiano, who will forever play like a rookie (that's a compliment Justin, you got this). If anything can inspire hope in such dire straits, it is the naivety of youth.
Weaknesses:
Inexperience: You knew it was coming.
Fanbase: As previously alluded to, no one likes the Marlins. Some people did, then Ozzie Guillen waxed nostalgic about Fidel, and that pared about 80% of the fans.  Then The Gutting occurred and with the stars went the remaining 20%. This team has an ugly new stadium that no one has paid for, it holds only 36,000 and might consistently fail to fill up even halfway.
Ownership: Enough cannot be said about how bad Jeffry Loria is for Miami, baseball in Miami, or baseball in general. He is the antithesis of a fan's owner, treating his franchise as would a corporate tycoon out only for the best profit margins. (In that regard, he is quite impressive, but @*&# that, right?) As long as Loria runs the Marlins, they will never win and never have fans.
Storylines:
How will Loria next demonstrate the extent to which he is out of touch with the proletariat?
Can Giancarlo Stanton succeed amidst a lineup of ineptitude?
Will Rob Brantly excel given this unprecedented opportunity to start everyday?
Can Ricky Nolasco put together a All-Star season?
Prediction:
70-92, 5th Place, NL East. Look for Miami to play piss poor baseball in front of eight to ten thousand people and finish at the bottom of the division. It will be a battle, but the Marlins will succeed in achieving less than the Mets.
Bold Predictions:
Rob Brantly hits .266 with 14 homers and winds up as the everyday cleanup hitter.

Ginacarlo Stanton hits 43 home runs and finishes the year in jail for the murder of Jeffry Loria.
The Marlins average under 20,000 per game attendance.
Some legal action is taken against the team on the part of the city in regards to the shady dealings with Marlins Park.