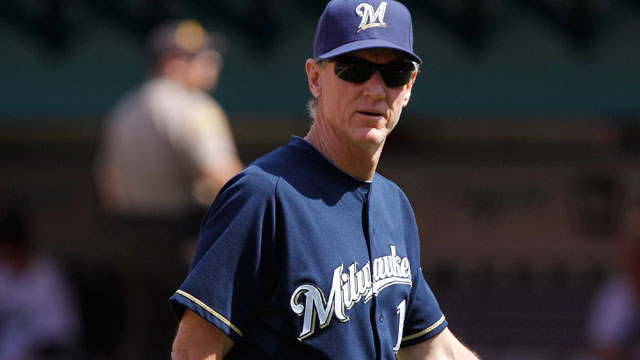 I've been watching a couple Brewers games lately and I read a really good article by Baseball Prospectus this morning that has prompted me to rethink my position on Brewers' skipper Ron Roenicke. Previously–specifically in my pre-2012 MLB manager rankings–I have been very supportive of Roenicke and I've thrown some pretty serious compliments his way. However, I'm not so convinced of his greatness anymore and I'm beginning to question if he is a very good manger at all.
The article I read this morning on BP was about the Brewers questionable eight man bullpen. I know we're in the era of hyper specialization in 'pens, and mangers love to use a ton of matchup guys, but an eight man 'pen is pretty dumb. With eight bullpen arms, a team only has four position players on the bench for any given game. Being so thin on backups, especially in the NL, can seriously come back to bite a team.  Case and point: Milwaukee was forced to pinch hit with pitcher Kyle Loshe in the 11th inning with two outs and the tying run on third base.
Before that game, Roenicke was asked about his roster configuration and this is what he said:
"We've talked about it. Right now, we're not looking at doing that. We've talked about a game plan of about where we think we need to be in trying to get back to a five-man bench. But there's too many other things going on to worry about a five-man bench right now, with just trying to put together a lineup like this and get Brauny back and get some kind of lineup where we feel that we can be consistent with."
What? Too many other things to worry about to put a full and winning team on the field? And does getting Ryan Braun back from his stiff neck really take up that much of Ron's time? Is he massaging Braun himself? Whether or not Braun plays, Roenicke needs to be trying to win games. In fact, without his best hitter, you would think that Ron would be pushing to add another bat to mix. It might help compensate for Braun's production in the couple games he misses, and moreover it would ensure he has enough postion players considering he's playing with only a 24 man roster while Braun is hurt!
The above quote sounds a lot like coach speak to me and there's nothing I hate more than those tired out cliches, vague metaphors, and veiled and contradictory statements that bad coaches cling to.
In 2011, when I ranked him so highly, Roenicke finished second in the Manager of the Year voting and won 96 games with his Brewers. Last year he won only 83 games, though admittedly with a much weaker roster. This season, they are 1-5 with a team ERA of 5.68. Their closer, John Axford, currently has a ERA over 20 and is one of the worst pitchers in baseball, statistically speaking.
The reality is that it's really hard to prove–statistically or otherwise–that a manager is particularly bad. The best way to do it, I think, is to watch him day in and day out and take note of the little mistakes that cost teams games but don't show up on linescores. Things like choosing the wrong pitcher out of the 'pen, poorly timed steals (or lack of steals), and generally bad in-game management. Honestly, I haven't watched enough of the Brewers to be able to make a real judgement.
More than that, though, I'm not convinced that Roenicke is bad. I'm just starting reconsider thinking of him as good.
-Max Frankel