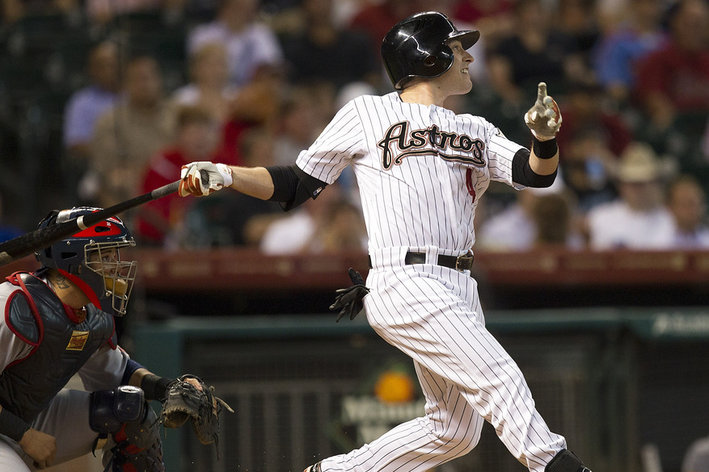 When the Oakland Athletics traded for Jed Lowrie this February, not many people looked up from their iPads.  The deal saw a bunch of promising guys that the casual fan probably didn't know, flip flop between Oakland and Houston, two of the more disengaged fanbases in baseball.  Despite its failure to make national headlines, the Lowrie addition and how Jed performs this year could be the key to Oakland's success for the 2013 season.  The good news for Oakland fans: Lowrie thinks he's become the next Ty Cobb with how he's performed this year.
Jed Lowrie is currently second in the majors in hits, has clubbed seven extra base hits in 26 at bats, and leads the American league in average, total bases, OPS, and OPS+.  All this out of a guy playing shortstop.
Lest you think Lowrie's hot start is something from the small sample size heaven of which we bloggers are wary, consider his early season dominance with the Astros last year.  While I'm aware that I just used "dominance" and "Astros" in the same sentence in the spring of 2013, Lowrie was deserving of an All-Star spot last year. He smacked 14 homers before the All-Star game along with 16 doubles.  His season long .190 ISO (isolated power) was third best among shortstops in the major leagues.
As it is prone to do, the injury bug bit Lowrie again last summer.  This time, it was a sprained ankle.  Before, it was a shoulder, a wrist, and a bout with mononucleosis.  All told, over the last four seasons, Lowrie has missed 49% of his teams' games. (That's a lot.)
Should Lowrie stay healthy even for 100 games, he can provide offense that the A's sorely missed out of shortstop last year when their slick fielders combined to hit .213/.278/.328.  (That's reallllly bad.)  I'm not confident in Lowrie's ability to play in 100 games and neither were the Boston Red Sox, who traded the promising infielder for Mark Melancon.
The Oakland A's seemed to find success last year with fairy dust, timely hitting, a Weekend at Bernie's, and surprising contributions from former Red Sox Josh Reddick and Brandon Moss. Why not do something similar this year with another former Sox?  With the Athletics roster already confident that they can make the playoffs, and the Angels starting pitching concerns worsened first by Jared Weaver's 85 mph fastball–and then by his broken elbow–the A's playoff chances are looking better.  If Jed Lowrie stays healthy and is able to do consistently what he's done in spurts over the last four years, the A's are playoff bound.
-Sean Morash
Stat of the Day: Justin Upton is on pace for 139 homers.