Sveum Wrong On Castro, Rizzo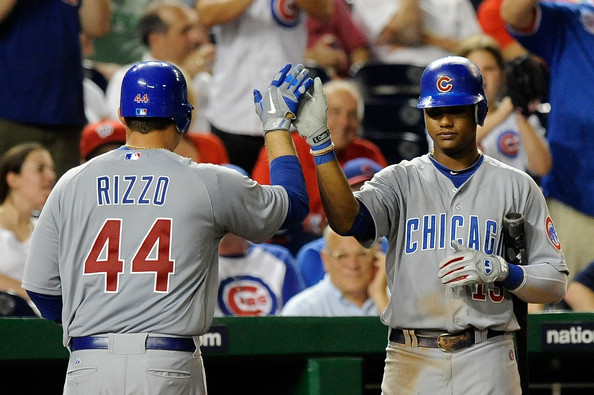 The Cubbies are struggling. In addition to being 5-12 through their first 17 games (last in the NL Central by an increasingly daunting five games), they are also 13th in the NL in runs, 14th in batting average, 14th in errors, and 14th in fielding percentage. In short, nothing has gone right for Dale Sveum' club after a promising spring training. It's understandable that he's frustrated.
However, in a pre-game rant to the media before Sunday's game in Milwaukee, Sveum said that any of his players, but specifically shortstop Starlin Castro and first basemen Anthony Rizzo, were liable to be sent to Triple-A Iowa if their performance didn't improve.
Now, this might have simply been a warning shot meant to startle his young stars, but assuming it wasn't, it's a terrible idea. For better or worse, Castro and Rizzo are the future on the North Side. If the Cubs hope to compete some time in the next 5 or 10 years, it'll be with those two players as key staples of the roster.
True, neither has played very well this season: Castro is playing less than inspired defense–he's made 4 errors so far and sports a shocking negative defensive WAR–despite hitting .301; and Rizzo's 6 homers belie his .210 average. Both need to step up their games if the team is going to be any good, but sending either down is a bad plan regardless. At this point in their respective careers, both Castro and Rizzo have conquered the minors. Casto has been in the MLB for three full seasons and is already a two time All-Star. Rizzo destroyed minor league pitching before being called up last season and thriving. Neither guy will improve in AAA.
All players go through slumps. It's the coach's job to help them work out. Sveum and his staff should be spending more time coaching their players and less time threatening to embarrass and replace them.
Further, let's say that both guys are terrible for the entire season. Wouldn't it still be a better option for them to stay in the big leagues and learn? Rizzo can gain so much more from striking out against a guy like Matt Cain, whom he will presumably see many more times in his career, than homering against some farm hand who will never see a Major League park. The Cubs aren't going to compete this year and we knew that going in. Sveum should embrace this as a learning year for the young guys. They should spend their time making adjustments to the Major League game and they can only do that at the Major League level.
I think we can chalk up Sunday to Sveum venting on a bunch of reporters in the visitors clubhouse. At least I hope so. Rizzo and Castro need to stay in the Bigs from now on. There is nothing more that they can learn in the minors. They aren't relearning mechanics like Ricky Romero or getting playing time so they don't have to sit behind established stars. They are the guys for the Cubs. Right now. The entire organization rises and falls with them. This season, when nothing can reasonably be expected, is the perfect time for them to take the lumps they'll inevitably need to take, so that later, when the team can compete, Castro and Rizzo are at their very best.
By the way, both Castro and Rizzo are 23.