The Colorado Rockies Must Deal For Some Pitching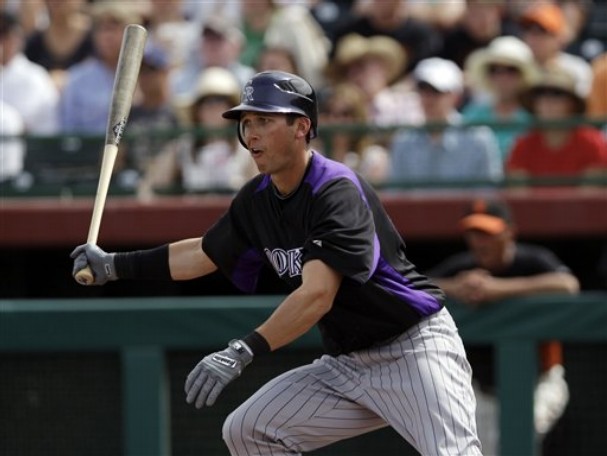 The Colorado Rockies have started out hot this year.  They're 15-10 and are currently tied with the Diamondbacks for first place in the NL West.  For Rockies fans this is as good as it gets, especially with a front office that has been known to make a mistake or two.  The Rockies lineup is on fire so far, leading MLB in slugging percentage at .458 and hits 243, seven better than the Tiger's 236.  They are also 4th in the Majors in RBIs, HRs, Runs, OBP, and Stolen Bases.  Dexter Fowler has started the year sizzling, hitting .295 with 7 HRs and a .398 OBP out of the leadoff spot (half the time).  Along with Michael Cuddyer, Carlos Gonzalez, and of course Tulo, the Rockies have a very solid top of the lineup.  But hitting has never been the issue for Colorado.
Their pitching is abysmal even by Triple A standards (hyperbole and amateur scouting back this claim).  While the Rockies currently sport an respectable team ERA of 3.79 (actually good enough for 12th in the Bigs), their staff is resoundingly unimpressive.  Their ace, Jhoulys Chacin, had been hot, with a 1.46 ERA through four starts, but is currently on the DL with back issues.  Regardless of the start, Chacin has a career 3.55 ERA (4.43 last year) and is certainly not an Ace for any team with playoff aspirations.  The rest of their staff is nothing to brag about either:  Jorge De La Rosa, Juan Nicasio, Jeff Francis, Jon Garland, and the recently promoted Tyler Chatwood.   The top of the bullpen isn't bad with Rafael Betancourt, Matt Belisle, and Rex Brothers, but the rest are nothing special.
The bottom line?  If the Rockies want to compete over the course of a 162 game season, they need to make some moves.
What makes the Rockies lineup great is not just the core, it is their incredible depth.  They have Eric Young Jr., Jordan Pacheco, and Yorvit Torrealba coming off the bench.  Pacheco is a .300 quality hitter and Young has been great table setter in the leadoff spot when he gets the opportunity to start.  To add to this depth, they also have Major League ready hitters waiting in the wings: Charlie Blackmon and Tyler Colvin (.290, 18 HR, 72 RBI with the big club last season).
With such an abundance of hitters–Colvin in particular–the Rockies should make a move for some starting pitching.  History–and Coors Field–tell us that the Rockies value bats over arms, and do not want to move one of their big names to obtain an ace.  That's understandable, but what they could do is deal a quaility bench player or a package of minor leaguers, for a middle of the rotation guy.  There are a few options, in terms of a trade, that make sense for the Rockies, and aren't too outlandish for their prospective partner.
The first possibility would be a straight up deal: Tyler Colvin for Ricky Nolasco.  Colvin, who should be starting at 1st base right now for the Rockies, would be a great fit for the Miami Marlins.   He has pop in his bat, and could protect Stanton in the lineup better than Placido Polanco or Greg Dobbs.  Although the Marlins are really not trying to contend this year, Colvin fits with their (alleged) philosophy.  He is young and cheap, has upside, could immediately slide in behind Stanton, and would allow them to dump Nolasco's $11.5 million salary.  This is assuming that, Jeffery Loria, eternal scumbag, is not purposely exposing Stanton in the lineup to keep his season totals low thereby lowering his arbitration value.  Either way, Miami would have to eat some of Nolasco's paycheck and Loria is unlikely to agree to that.
One thing that Coors Field demands in ground ball pitching.  Philladelphia's John Lannan, although he has struggled this year, still has a 58% groundball rate.  Another option would be Detroit's Rick Porcello.  Porcello, a former first round pick, has been mismanaged by the Tigers and has been bumped down to the fifth starter/bullpen role.  Like Lannan, Porcello has a high groundball rate at 57.3%.  The Tigers may have completely given up on Porcello, but the Rockies would probably have to give up more than Tyler Colvin to get him, considering Detroit is also flush with offense.  Finally, Jon Niese.  With a 55.5% GB rate and solid peripherals, Niese is the best option for Colorado, but the Mets just signed him to a 5yr/$25.27 million deal and it would take significantly more than Colvin for them to consider a move.
The reality is that the Rockies cannot win with their current starting pitchers, and with a World Series quality lineup, this is the year to make a move for a quality arm.  The trades mentioned in this article are moves I hope Rockies General Manager Dan O'Dowd will consider.  But if they want to have serious a chance of competing this year they may have to deal the more highly touted Drew Pomeranz or Christian Friedrich–maybe even more.  But if that's the case, so be it.  Without bolstering their pitching staff, the Rockies will be no more than a highly entertaining team that misses the playoffs.
-Brett Zaziski