Manager Swap: Twins, Angels, and Dodgers Should Trade Gardenhire, Scioscia, and Mattingly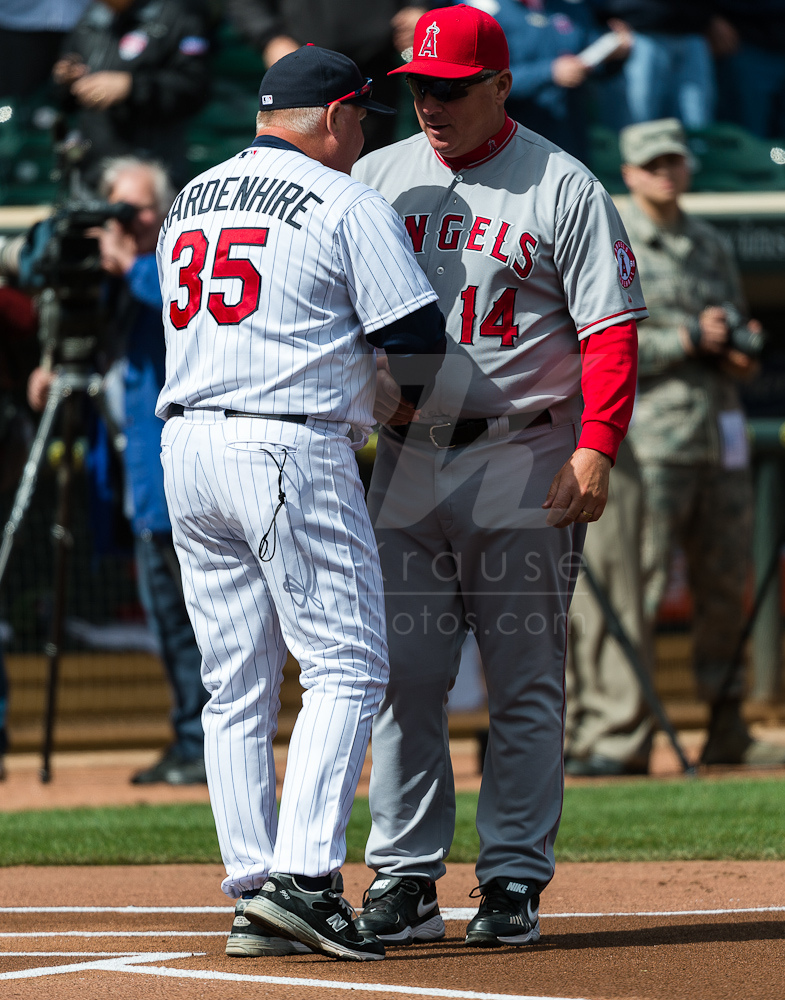 Before I lay out my grand plan for an unprecedented three team triangle trade of skippers, let me first make clear that it is possible to trade non-players. In fact, it just happened. Last winter, the Boston Red Sox sent utility infielder Mike Aviles to the Toronto Blue Jays in exchange for manager John Farrell. Ferrell is now the toast of Boston, he's reinvigorated the team and star pitchers Clay Buchholz and Jon Lester. None of that would be possible without a manger trade.
So there you have it. Managers can be traded and, like players, they can find great success with one organization after sputtering with another.
The three guys I'm talking about dealing have hardly sputtered. (well, sort of, but I'll get to that) Ron Gardenhire has been the manager of the Minnesota Twins for 12 seasons. He has amassed 950 wins, good for a .522 winning percentage. In his 12 years, he has finished in the top three in manager of the voting 7 times, including winning the award once, in 2010. The 55 year old guided the Twinkies to 6 AL Central division crowns, an impressive feat.
In recent seasons, however, Gardenhire and his team has struggled. In 2011, stung by injuries to Joe Mauer and Justin Morneau, the Twins won only 63 games, finishing 63-99 and inlast place. Last year was a lost one as well. The Twins won 66 games and finished last yet again. This season, behind some bad pitching, the Twins only 18-19 in a deep and competitive division. As an organization, the Twins have a long way to go. They have begun the process of rebuilding from the ground up and it looks to be a long one. Gardenhire, still one of the game's elite managers , might not be the right guy for the task. While he's not all that old, he is pretty close to the peak of his managerial powers and he might not want to waste four or five season at the helm of a loser. Further, over time, managerial voices get stale. Players need a change and, after 12 seasons, it might be time for the Twins to have a new voice.
Out in LA, meanwhile, there are two tricky managerial situations.  Unlike the Twins, the Angels were expected to compete for a championship this season. Their manager, Mike Scoscia, is considered one of the games' best and their roster is jam packed with superstars. Last season, the Angels were a disappointment and there were grumblings that Scoscia's time might be up in Anaheim. Scoscia, who has been with the team for 14 seasons, is known as one of the most powerful mangers in the game but last year he had a coach fired out from under him, much to his dismay.
This season has considerably worse. Favored by many to win the AL West, the Angels have the third worst record in the bigs. Despite Scoscia's considerable resume- an 1170-977 record, 2 manager of the year awards, and a World Series championship- the angels might be ready to move on in an effort to reinvigorate a roster they can't afford to give up.
Down the freeway, the Dodgers are in a similar situation. They spent a small fortune this winter putting together what might be the most talented roster in the majors (and what is definitely the most expensive). However, the Dodgers have underperformed to the tune of a 17-22 record and 5th place in a division they expected to win. Their manager, former Yankee great Don Mattingly is in only his third season and sports a 185-177 record. Though the Dodgers ownership has voiced support for Mattingly recently, the grumblings about his job security has gotten louder. Of all big league mangers, his seat seems like it might be the hottest.
So, now that we know who everybody is and why they need a change of scenery, lets take a look at where they should go. Here's my proposed trade:
The Los Angeles Dodgers send Don Mattingly and pitcher Brandon League to the Minnesota Twins. The Twins send manager Ron Gardenhire to the Los Angeles Angels. The Angels send manager Mike Scioscia to the Dodgers.
Here's why it works:
The Dogers get Scioscia, a guy with a proven track record of winning and winning in LA. He comes in and immediately brings a managerial accumen, experience, and credibility that Don Mattingly lacks.For the team, its a much needed guiding hand. For Scioscia, its the same city where he's thrived but new people, a new environment, an energetic and excited fan base and supportive owners. With the Dodgers, his tired anecdotes are fresh and new, his coaching tips might be revelations for some guys and he has the chance to make an immediate impact.
What was stale with the American League's LA team might be a shot in the arm of the National League's LA club.
The Angels get Gardenhire. Gardenhire is winner who knows what it takes to guide a star studded team to the playoffs. He would take over a team with three of the best struggling hitters in baseball and two of the games upper echelon starters. Gardenhire would be thrown in in the deep end in terms of expectations but that might be refreshing for him after coming from 66 win Minnesota. Like Scioscia, his coaching techniques, which were old news in Minneapolis, would be fresh and different for guys like Albert Pujols and Josh Hamilton. Though the Angels would be losing a guy with a great resume, they guy they would be getting in return is just as savvy. Gardenhire would be a great fit for the Halos.
The Twins would get Mattingly and League. I threw League in here for a variety of reasons. Mattingly is the least valuable of the three managers involved and the Twins might need a little something to part with Gardenhire in favor of him. League is a proven late game reliever and the idea is that the Twins could flip him at the trade deadline for some younger value. If the Twins eat 1/3 of League's salary, the Dodgers get out from under at least part of a contract they must regret and the Twins get a cheap guy to trade to a contender.
Mattingly, the youngest and least experienced of the relevant managers, could be well served continuing to learn the ropes on a rebuilding team. There has been a lot of criticism of him of late, some commenters are saying that he's too much of a players' manager and perhaps some time in Minnesota could help him hone his craft. (This harkens back to that whole thing about him refusing to manage in the minors a la Ryan Sandberg)
Basically, everybody wins with this deal. Three team get better fits, two could be reinvigorated into playoff runs. Three managers get better fits, for one, a less pressure packed opportunity to establish himself as the long term solution for a up and coming team, for another, the chance to get back in to the playoff push and help a struggling contender, and for the third, the chance to change horses midstream and take another crack at 2013 in a better situation for him.
This will work. Make it happen.